Sesame Fingers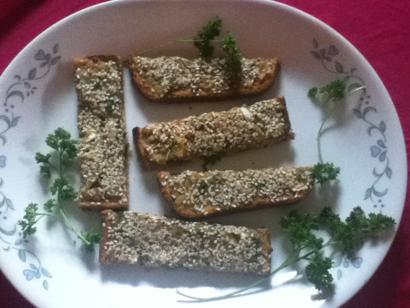 Sesame seeds are high in energy, essential for growth, especially in children, helps to lower LDL or "bad cholesterol" and increase HDL or "good cholesterol" in the blood. They contain many health benefiting nutrients, minerals, antioxidants and vitamins that are essential for wellness.
Ingredients
• Brown bread- 4 slices
• Sesame seeds- white/black- 2 tsp
• Potatoes- 2, boiled and grated- 1 cup.
• Tomato sauce- 1 tsp
• Tomato-1/2 deseeded and finely chopped (Optional)
• Green chilli- 1, deseeded and finely chopped
• Green Coriander- 2 tbsp finely chopped
• Salt-3/4 tsp
• Pepper-1/4 tsp
• Chat masala-1/2-1 tsp
• Amchoor powder -1/4 tsp
Preparation
1. Mix all the above ingredients except the bread and sesame seeds. Divide into 4 portions.
2. Spread each of the potato mixture on one bread. Repeat with the remaining bread slices and potato portions.
3. Sprinkle some sesame seeds. Grill in an oven till the toast turns crisp.
4. Cut each slice into 3 long fingers and serve hot with green chutney or salsa dip.
Serves 
6 Persons (12 fingers)
By Bhaktin Meena/Madhulila