Breadsticks with Zatar Dip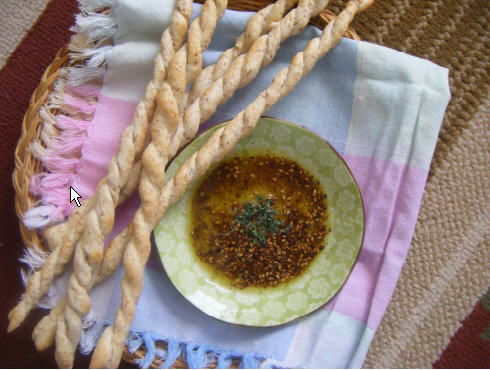 Ingredients
•1 package active dry yeast
•1 tsp salt
•1 tsp black pepper
•2 cups flour
•½ cup butter
•¼ cup milk
Preparation
1.
In a bowl, combine yeast, salt, pepper, and flour. In a saucepan, heat butter and ½ cup water over low heat until very warm (120 F). With hands, knead dough in the bowl for a few minutes, until smooth and elastic.
2.
Cover loosely with plastic wrap. Let it rise in a warm place (80F) for about 2 hours, until double. Grease 2 baking sheets. Turn dough onto lightly floured surface. Cut dough into quarters, and then cut each quarter into 12 equal pieces. Roll each piece into a 12‐inch‐long rope.
3.
Twist 2 ropes loosely together; place on baking sheets.
4.
Preheat the oven to 350F. Brush milk over bread sticks. Bake bread sticks 25 minutes or until browned and crisp. Meanwhile, pour 3‐4 tbsp olive oil in a small dish/plate. Add 1 tbsp zatar spice to the plate.
5.
Zatar is a Middle Eastern spice mixture of salt, sesame seeds, sumac and thyme… sometimes there are other spices in there. If you do not have it or cannot find it, simple just dip your bread stick in the olive oil with black pepper.
Serves
24
By Madhavi Devi Dasi