Cracked Wheat Salad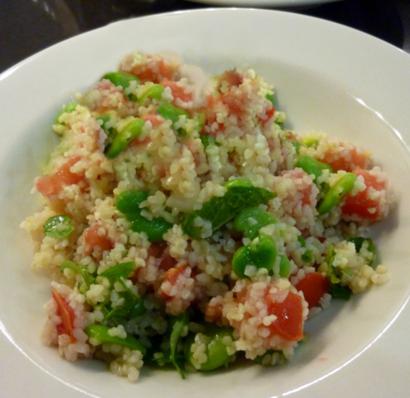 The south Indian's enthusiasm for rice dishes is equaled only by that of the North Indians for wheat. Wheat is eaten in some form every day in the North. During the India-Pakistan skirmish in 1971, I was residing in Vrindavan, tending a friend with a fever. Her resident homeopathic physician insisted that she recuperate on this salad. He knew nothing of Lebanese tabbouleh salad, yet this variation resembles it remarkably. It is full of flavor and nutrition (parsley is loaded with vitamin C). Cracked wheat and bulgur are processed differently but can be used interchangeably. They are available at gourmet, health food and Indian grocery stores. This room temperature salad is good in any season.
Preparation and cooking time (after assembling ingredients): 40 minutes

Ingredients
• Water – 1 ½ cups (360 ml)
• Cracked wheat or bulgur – 1 cup (240 ml)
• Fresh peas or sliced snow peas – ½ cup (120 ml)
• Salt – ½ teaspoon (2 ml)
• Freshly ground pepper – ½ teaspoon (2 ml)
• Minced fresh parsley – 1 cup (240 ml)
• Finely chopped fresh mint or 1 table spoon (15 ml) dried mint – ¼ cup (60 ml)
• Tomatoes, each cut into eights or 8 tomatilos, husked and quartered – 2 medium-sized
• Olive or sesame oil – ¼ cup (60 ml)
• Seeded and minced hot chilies preferably yellow or red – 1-2
Preparation
1. Bring the water to a boil in a quart/liter saucepan. Add the cracked wheat or bulgur, peas or snow peas, salt and pepper.
2. Remove the pan from the heat and set aside for ½ hour. Most of the water will be absorbed into the grains.
3. If there is any excess, drain it off or place the pan over low heat and cook until it is absorbed.
4. When thoroughly cool, transfer to a serving bowl and gently toss with the remaining ingredients.
5. Serve at room temperature or chill. If you want a showy presentation for a salad buffet, line the serving container with cabbage leaves, spoon in the salad and garnish with yellow bell pepper rings.

Serves:
4 to 6

By Yamuna Devi Dasi