Cranberry Chutney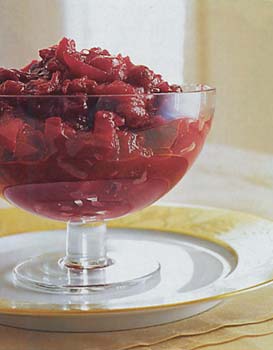 Topokul is not a cranberry but a sour berry that makes a chutney similar to whole-berry American cranberry sauce. There are two main types of cranberries: small wild European berries and the larger red cultivated American berries. India Topokul is like a cross between the two. Because fresh berries freeze well, this selection can be made on short notice, especially in the fall.
Preparation and cooking time (after assembling ingredients): about 45 minutes
Ingredients
• Piece of cinnamon stick – 3-inch (7.5 cm)
• Whole green cardamom pods, crushed open – 3-4
• Whole cloves – 1 teaspoon (5 ml)
• Hot green chilies, seeded – 1-2
• Piece of orange zest – 3-inch (7.5 cm)
• White grape juice or water – 1 ½ cups (360 ml)
• Rraw sugar or maple syrup (180 ml) – ¾ cup (120 g)
• Pitted dates, sliced – ½ cup (80 g)
• Cranberries – 1 pound (45 g)

Preparation
1. Tie the cinnamon, cardamom pods, cloves, green chilies and orange zest in a small piece of cheese cloth. Combine the juice or water, sweetener, dates and spice bag in a heavy-bottomed, 2-quart/liter saucepan over moderate heat, and cook, stirring, until the sugar dissolves. Reduce the heat to low and simmer for ½ hour.
2. Remove the spice bag, pressing it to extract the flavor. Stir in the cranberries and cook for 7-10 minutes or until the mixture thickens and the berries pop. Serve at room temperature, or cover and refrigerate for up to a week.

Makes:
about 3 cups (710 ml)
By Yamuna Devi Dasi