Creamy Tangy Avocado Pasta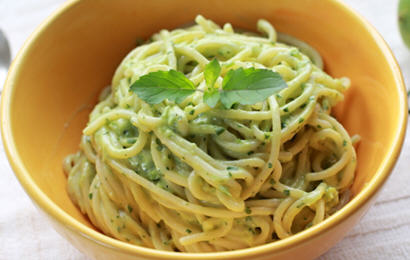 Description
This is a really amazing pasta dish that you can put together in minutes! A must try!!
Ingredients
• 6 ounces pasta
• 1 large ripe Avocado, pitted and peel removed
• 1 green chili
• 2 tablespoon fresh lime juice
• 1/2 cup plain yogurt
• 1/4 cup chopped fresh cilantro
• 1/2 teaspoon salt, or to taste
• Freshly ground black pepper, to taste
Preparation
1. First boil your pasta, only 10 minutes.
2. Blend up all your sauce ingredients including yogurt.
3. Now you are ready to combine them.
4. Make sure the sauce gets on every stand of pasta and you are ready to serve. See how simple that was!
By Bhaktin Christina