Dudhi Raita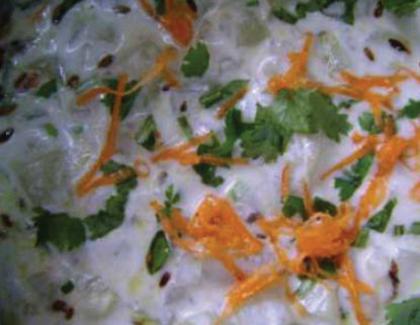 Ingredients
•Dudhi / Bottle Gourd…………………………………50 gm
•Curds (Whipped)……………………………………..150 gm
•Jeera (Cumin Seeds)………………………………..1 Tsp
•Curry leaves…………………………………………….Few
•Cow's Ghee…………………………………………….1 Tsp
•Roasted jeera powder……………………………….½ Tsp
•Salt to taste
For Garnishing:
•Coriander leaves
•Grated carrot
Preparation
1. Peel and chop dudhi into medium size cubes.
2. Steam these cubes till soft but firm.
3. Cool and mix with the whipped curds.
4. Heat ghee in tempering pan. Add jeera and curry leaves. 5. Add this seasoning to curd-dudhi mixture. 6. Add roasted jeera powder and salt. Mix well. 7. Garnish with finely chopped coriander leaves and grated carrot.

By Vaidehi