Eggless Pancakes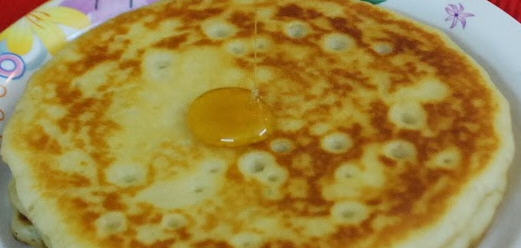 Ingredients :
•All  purpose flour(maida) – 1 cup
•Milk – 1 cup
•Sugar – 1-2 tablespoons
•Salt – 1/2 teaspoon
•Oil – 1 tablespoon
•Baking Powder – 1 tablespoon
•Honey or butter or jam- for coating
Preparation :
1. Mix maida, baking powder, salt and sugar.
2. Next, add milk & oil to the mixture of dry ingredients and mix them gently.
3. Keep this mixture aside for 10 minutes.
4. After 10 minutes, heat a dosa tawa. Once it is heated up, lower the flame and allow it to cool a little otherwise pancakes won't come out perfectly.
5. Keep the flame on medium heat and grease it with some butter.
6. Once this is done, pour a ladle of the pancakes batter prepared above, but do not spread the batter.
7. Once, the bubbles disappear, turn the pancake upside down.
8. Allow it to get cooked from both the sides evenly by turning it upside down again.
9. Repeat these steps till the pancake is well cooked from both the sides.
10. Once cooked, turn off the flame and take the pancake out on to a plate.
11. Coat it with butter or jam or honey.
12. Pancakes are ready to serve.
By Shilpy Malhotra