Golden Papaya Chip Chutney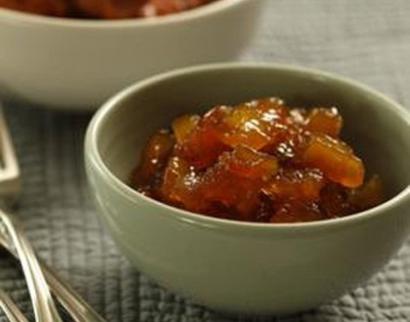 I was introduced to this dish at a lavish Bengali feast in the suburban Calcutta estate of Mr. Tarun Kunti Ghosh, the publisher of Amrita Patrika Bazaar, Calcutta's largest newspaper. The memorable prasadam repast contained some of the finest Bengali cuisine I have ever tasted, made with great care in a newly constructed kitchen equipped with freshly made clay stoves, by a fleet of Brahman cooks decked out in new clothes, and using mountains of fresh produce, grains and milk products, the end result of this kitchen army included 108 exquisite preparations served to the 100-plus guests dining village style: seated on an open veranda behind newly picked throw-away banana leaf plates and clay cups. Before I stopped counting, more than forty servers had brought in relay after relay of indescribably delicious prasadam and this chutney, made from unripened papaya, caught my attention at the first bite. Inquiring after the recipe in the kitchen, I was laughingly told in halting Pidgin English that I was eating Tarun Baba's famous "Plastic chutney": when shavings of green fruit are simmered in acidulated syrup, they become transparent and to the Bengali cooks, resembled chips of plastic.
Unripened, green papaya has very hard, white flesh and is frequently used in Bengali and oriyan chutneys, dals and vegetables. It is available at Indian, Chinese and Latin greengrocers. Because most supermarket papaya is picked quite green, to ripen in transit and in the stores, half-ripe fruit is more than acceptable. The thin papaya slices rest in a glistening golden sauce. Try it as a relish with a formal full-course meal or as a jam.
Preparation time (after assembling ingredients): 15 minutes
Cooking time: 30 minutes
Ingredients
• Unripe green papaya (about 2 ½ cups/600 ml of thinly sliced fruit) – 2 pounds (1 kg)
• Sugar – 1 ¼ cups (265 g)
• Water – 1/3 cup (80 ml)
• Strained lime juice – ¼ cup (60 ml)
• Salt – ¼ teaspoon (1 ml)
• Hot green or dried red chili (or as desired) – 1

Preparation
1. Quarter the papaya lengthwise, peel with a paring knife, and scoop out the center seeds and fibers. Cut each quarter in half lengthwise, then slice the papaya wedges crosswise into thin wafers.
2. Combine the sugar and water in a 2-quart/liter saucepan. Place over moderately low heat and stir until the sugar is dissolved; then add the papaya, raise the heat slightly, and gently boil until the fruit is soft.
3. Remove the papaya slices with a slotted spoon and set aside. Continue to boil the sugar-water mixture for about 20 minutes or until it is reduced to a one-thread consistency. When it is thick, add the papaya, lemon juice, salt and whole chili. Cook until the papaya is translucent and the texture jam-like.

Makes:
1 ½ cups (360 ml)

By Yamuna Devi Dasi