Homemade Noodles in Tomato Sauce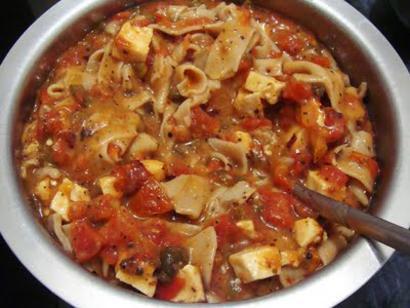 Ingredients:
• Homemade noodles (made from 3 cups of atta or fine wheat flour. I've also used whole wheat.)
• Plum tomatoes (preferably blanched and peeled), finely chopped – 25
• Oregano – 1 1/2 tsp
• Basil – 4 tsp
• Hing – 1/4 tsp
• Black pepper – 1/2 tsp
• Atta – 1/4 cup
• Butter – 2 tbsp
• Ghee – 2 tbsp
• Salt, as desired
• Ghee for deep frying
• Paneer from 2 liters of milk
Preparation:
1. Briefly chaunce the oregano, basil, pepper and hing in the ghee and add the chopped tomatoes. Stir, add a couple cups of water, bring to a boil, lower the heat and simmer until tomatoes are cooked.
2. Toast the flour in the butter about 5 minutes. Add to the tomato sauce and cook until thickened. Remove from heat.
2. Cook the noodles in boiling water for about 7 minutes. Drain. Rinse and drain once more. Then add to the tomato sauce.
3. (Either slice the paneer into small pieces and stir fry as pictured below or) Knead the paneer until smooth. Roll into small balls. Deep fry in ghee. Drain. Soak in 2 cups water with 2 t turmeric and 1 T salt for at least 45 minutes.
4. Add the cheese balls (or cubes) to the sauce and noodles.
By Bhaktin Priya