Honey pecan and greens salad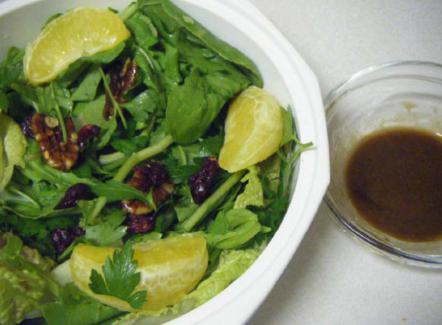 Ingredients
1. Honey Pecans:
•2 tbsp honey
•1/3 cup whole pecans
•1 tsp chili powder
•¼ tsp salt 
•2. Salad:
•3 cups greens (mix of red-leaf, green-leaf, etc.)
•1 cup arugula*
•¼ cup fresh parsley
•½ cup dried cranberries
•8 orange wedges
•3. Honey-Mustard Vinaigrette
•2 tbsp balsamic vinegar
•2 tbsp Dijon mustard
•4 tbsp olive oil
•1 tbsp honey
•½ tsp salt
•¼ tsp black pepper

Preparation
Bring honey to a simmer in a pot over medium heat. Stir in pecans and cook for 4 minutes. Stir in salt and chili. Cool completely.
To make honey-mustard vinaigrette: whisk together vinegar, honey, salt, pepper, and mustard. Add oil and combine all ingredients well.
Toss greens, cranberries, pecans, and orange wedges with vinaigrette.
*Arugula leaves are bitter and they go perfectly with honey-pecan and honey mustard vinaigrette.

Serves
4
By Madhavi Devi Dasi