Jagganath Rath Carrot Cinnamon Cake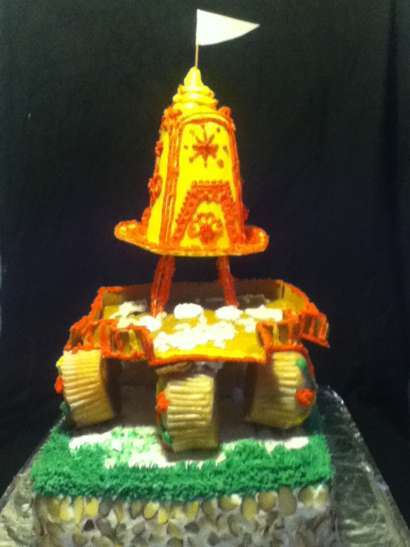 Ingredients
• Self raising flour- 1 1/2 cups( or all purpose flour- 1 1/2 cups and Baking powder- 1/2 tsp, Baking soda 1tsp)
• Powdered sugar- 1cup
• Baking powder/Eno- 1/4 tsp
• Cinnamon powder- 1 tsp
• Salt- a pinch
• Carrot grated – 1cup. 2 medium carrots
• Melted butter – 1/4 cup ( 1 stick)
• Cooking oil- 1/4 cup
• Vanilla essence- 1 tsp
• Sprite- 3/4 cup
• Sliced almonds- 3-4 tbsp
Preparation
1. Sieve flour, baking powder, baking soda, powdered sugar and salt together in a bowl
2. Add cinnamon powder and grated carrots to it and mix well until evenly spread.
3. Now pour in the melted butter, cooking oil, Sprite and vanilla essence and mix until well blended.
4. Preheat oven to 375 f or 190 C
5. Line the tray with parchment paper, and pour the batter on it.
6. Bake for 40-45 minutes at 370F
7. Check by inserting a skewer on the center.Once done, cool on a wire rack
For Assembling the cake
1. Make buttercream icing (as written in Tulsi apple cake in Total veg.com)
2. Make 8 cupcakes with the same recepe as above or with the sponge cake recepe, and decorate with multicoloured icing.(Above measures makes 10-12 cupcakes)
3. The rath base and dome were made with gumpaste and fondant 3-4 days before and was let to dry. 2 holes were made on the base of the rath for the sticks of the dome to pass through.
4. The yellow dome was made with the support of a plastic glass and decorated with red icing.
5. Insert 2 long sturdy wooden sticks (dowels) inside the glass and support it with the help of dough made with flour, water and fevicol.
6. Decorate the cake with buttercream icing, green grass made with icing or green coloured shredded coconut and sliced almonds as shown in the picture
7. Use the cupcakes as wheels. Make imprints on the cake with the cupcakes to show that the cart had moved.
8. Put the Rath base on top of the wheels. Make 3 icing pedestials on the Rath base for their Lordships to sit. Make Rangoli patterns all over.
9. Insert the sticks deep in the cake, passing through 2 holes made on the base of the Rath
10. Decorate the sticks and the base with red and white icing as shown in the picture.
11. Attach the dome in the end
By Bhaktin Meena