Lord Nityananda Padkamal Cake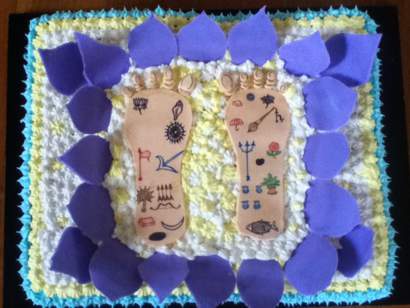 The Plan
http://www.youtube.com/watch?v=-gT93EQBnjw
2 layers of cake were made. One layer was a chocolate/carob powder cake; and the other was a cherry cake. The filling in between the cakes was with cherries and apricot jam. The icing was done with cream cheese using tip 21.The Lotus feet was put in the center and surrounded with petals. It was served to Lord Nityananda on Nityanand Trayodashi Feb. 2013
For Recipe of chocolate cake – see Strawberry Chocolate Cake
(http://food.iskcondesiretree.com/strawberry-chocolate-cake/10530)
For Recipe of cream cheese frosting- see Orange sun cake
(http://food.iskcondesiretree.com/orange-sun-cake/12342)
Cherry/Blueberry Pound Cake
1 recipe  gives 12 servings
Ingredients:
• 2 And 1/2 Cups Cake Flour (237 gms) ( Add 2 tbsp corn flour in your measuring cup and then fill it with all purpose flour=1 cup cake flour. Sieve it 5 times.)
• 1 and 1/4 Cups Sugar (140gms)
• 1/2 Cup Butter, Softened (1 stick or 112gms)
• 1/2 Cup Pureed Silken Tofu (2 oz)
• 1/2 Cup Plain Yogurt (without water)
• 1/4 Cup Milk (50ml)
• 1 Teaspoon Vanilla Extract
• 2 Teaspoons Baking Powder
• 1 Teaspoon Baking Soda
• 1/4 Teaspoon Salt
• 2 Cups fresh cherries/ Blueberries/strawberries/pineapple.
• 3-4tbsp any fruit juice/water
Procedure:
1. Preheat oven at 350F/180C for 15 minutes. Grease and flour a Bundt pan or a 13×9 inch pan.
2. Beat silken tofu and yogurt separately for few seconds. In a small bowl mix together the pureed tofu, yogurt, milk and vanilla extract.
3. In another bowl sift together the flour, baking powder, baking soda and salt; set aside.
4. Cream the butter and sugar in a large bowl until it's light and fluffy for about 5 minutes. To this mixture add the liquid ingredients little by little, beating well after each addition.
5. Now combine the dry ingredients and blend well.
6. Stir in the cherries or your desired fruit.
7. Pour the batter into the prepared bundt pan and bake for about 60 minutes or in a 13×9 inch pan instead and bake for about 35-45 minutes, or till the inserted toothpick comes out dry.
8. Remove the pan from the oven and let it cool on a wire rack. Remove the cake from the pan after 20-25 minutes. Keep the cake on the wire rack and let it cool completely.
9. Sprinkle 3-4tbsp of cherry juice/any fruit juice/water on the cake to give moisture.
10. Decorate with cream cheese using tip 21
Lord Nityanandas feet and Lotus petals
Ingredients
• Gum paste
• Fondant
• Ivory color
• Purple color
• Water
Method
For the feet
1. Mix gum paste and fondant in a proportion of 1:2.
2. Add a small toothpick scrapping of Ivory color. Blend well to give the desired skin color. Cover with Clingfilm and set aside for 5-10 minutes for the color to come.
3. In a separate small bowl, take 2-3 tbsp of water and put a small pinch of gum paste. Keep it aside. The gum paste will dissolve and the water will become sticky which will be used as edible gum to stick the toes. It is called gum glue.
4. Roll into 2 equal ovals and cut into the shape of two feet. Make small balls and shape them as toes and skin folding. Join the toes and the skin folds using the gum glue. Set aside to dry overnight.
5. Once dry, mark the edges of the toes and skin folding with edible brown food color markers.
6. Also draw the holy symbols on the feet using the edible color markers.
7. Place the feet on the center of the cake gently and attach the toes as shown.
For the petals
1. Use the same procedure of mixing gum paste and fondant as above using purple color instead.
2. Roll and shape lotus petals using your right index finger and thumb or draw design of a lotus petal on a cardboard, cut it and use this as your base to cut the petals.
3. Let them dry overnight on the convex part of the flower former or on the edge of an inverted round pan, or on a cylindrical cardboard.
(http://www.amazon.com/Wilton-417-9500-Flower-Former-Set/dp/B000FHHC2C)
4. Attach them on the cake surrounding the lotus feet.
By Meena Samtani/Madhulila Dasi