Mango Muffins (Eggless)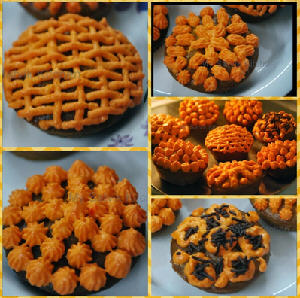 Ingredients 
•Maida – 200 grams
•Salt – 1/4 teaspoon
•Baking soda – 1/2 teaspoon
•Baking powder – 1/2 teaspoon
•Sugar – 100 grams (adjust according to taste)
•Oil – 50 grams
•Mango pulp – 1/2 cup
•Milk – 1/2 cup
Preparation:
1. Mix maida, salt, baking soda, baking powder and sieve them together. Keep aside.
2. Next, add sugar to the mango pulp and grind them together.
3. Next, add oil and mix well.
4. Now, add milk and beat them well.
5. Now add maida mixture previously prepared and add them slowly and gradually.
6. Fold in the flour added and mix well.
7. Now, the batter for mango muffins is ready.
8. Preheat oven at 180 degrees celcius.
9. Grease a muffin tray with oil and pour the batter till 3/4th quantity of each mould is filled. 
10. Bake for 15-20 minutes at 180 degrees celcius.
11. After 15 minutes, check once and then continue baking.
12. Chek by inserting a knife. If the knife comes out clean it is done otherwise bake for some more time.
13. Once the knife comes out clean, mango muffins are ready to serve.
14. Top them with icing or nuts. Whipped cream icing has been shared in another post.
By Bhaktin Meena