Neelachal Lily Orange Cake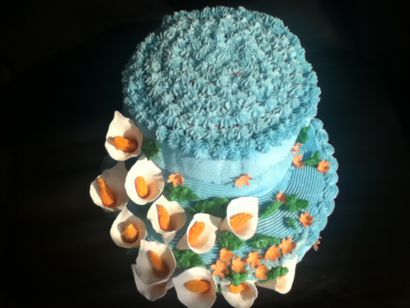 Ingredients
• All purpose flour- 1 1/2 cup
• Baking Soda- 1/2 tsp
• Baking powder- 1 tsp
• Sunflower/ vegetable oil-1/2 cup
• Confectioners sugar/ castor sugar- 3/4 cup
• Yoghurt- 1/4 cup
• Fresh Orange juice mixed with 2 tbsp orange pieces- 3/4 cup
• Orange peel scrapped- 1 tsp
For Orange frosting
• Confectioners sugar- 1 lb/ 4 cups
• Unsalted softened butter- 1 stick
• Vanilla extract- 1/2 tsp
• Pinch of salt
• Orange preserves/ orange pieces- 1/2 cup
Method
1. Mix flour, soda and baking powder properly.
2. In a separate bowl mix oil and sugar for 2 minutes on low speed, then add yoghurt and beat well on medium speed with the hand mixer till soft and creamy
3. Gradually add the liquids to the flour and beat till soft and creamy
4. Add the orange juice and the orange zest/peel and mix well
5. Bake at 350F for 30-35 minutes or till cake tester/toothpick inserted comes out clean.
6. After the cake has cooled, divide the cake in half and ice it with orange frosting.
7. Join the two halves and decorate with blue coloured butter cream icing ( recepe in Sudarshan Chakra blueberry cake)
8. Place pre prepared Calla Lily tulips and small blossoms made from gumpaste/fondant 2-7 days before. Stick them with melted candy or butter cream icing
9. Decorate with leaves made from green butter cream icing and tip 352.
10. Offer the Neelachal mountain with tulips and blossoms to the Lord and serve as prasadam
To make the Neelachal mountain effect-
1. Bake 1 layer of 10 inch and 2 layer of 6 inch cakes and position the 6 inch cake 1 inch away from the edge of the 10 inch cake. Put Dowels in the 10 inch cake to support the cake on top.
For Orange frosting
1. Beat Sugar and butter together till creamy, add vanilla, salt and orange preserve and beat till well mixed
By Bhaktin Meena