Sattvic Vegetable Lasagna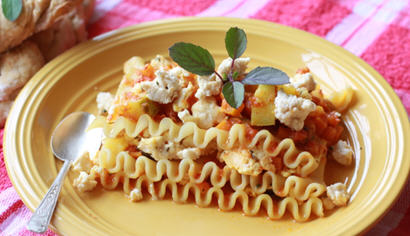 Description
This recipe is very mode of goodness using fresh vegetables, garden herbs and pure homemade paneer and yogurt cheese. Exquisite flavor!
Ingredients
• 1 box dried lasagna pasta
• 1 1/2 cup crumbled paneer
• 1 1/2 cup firm yogurt cheese
• 8 small tomatoes
• 1 large carrot or 3 small
• 1 bell pepper
• 2 green chile
• 2 small zucchini
• 1 sprig of fresh rosemary
• 2 fresh oregano leaves
• 3 leaves of fresh sage
• 2 tbsp ghee
• 1/2 tsp dried ginger
• 1/2 tsp turmeric
• 2 tsp sugar
• 2 tsp salt
• 1/4 tsp pepper
• 1/2 tsp cayenne pepper
• 1/4 tsp hing
Method
1. First let's start making the pasta. You can get this at almost any grocery store. Not sure about India though.
2. Boil a large pot of salted water. Once the water has come to a rolling boil add the lasagna noodles. Do not cook very long. Only about 8 minutes. It is ok if the pasta is not fully cooked after the 8 minutes because we are going to bake it some more later.
3. Immediately strain the pasta through a colander and run cold water on top so that you can handle the pasta. Lay out each and every pasta flat on a flat surface, I used a baking sheet. Do not skip this step or you will have broken pasta that is all stuck together. Then set aside.
4. Now we are going to season the paneer and yogurt cheese.
5. Crumble the paneer and then add 1/2 tsp salt and 1 tablespoon of fresh chopped herbs and stir it all up. (whichever herbs you have is fine. I used rosemary, oregano and sage.)
6. Stir and set aside.
7. Make sure that you use a firm yogurt cheese.
8. Add 1/2 tsp salt to the yogurt cheese, stir and set aside.
9. Time to make the sauce. Gather your veggies.
10. Blend up all the tomatoes and green chiles in a blender until nice and smooth.
11. Chop up all the veggies and remaining fresh herbs in preparation for cooking.
12. Heat 2 tbsp of ghee in a large pot. Add the fresh herbs.
13. Cook for about 1 minute. This releases the nice oils from the herbs which brings out the flavor.
14. Now add the all the vegetables except the zucchini. Cook for about 5 minutes.
15. Then add the tomato sauce, all the dried spices and salt, and cook for about 3 minutes.
16. Then add the zucchini and cook for an additional 5 minutes.
17. After about 5 minutes you are done!
18. Now we are going to prepare the lasagna stack for baking. Use a long baking dish that will fit a whole lasagna noodle layer flat down. Pour one ladle of tomato and veggie sauce in the bottom of the baking dish and spread all around.
19. Now layer as many noodles flat in a row inside the baking dish, I was only able to do 3 noodles in a row. When you are done layer a scoop of tomato sauce on top of all the noodles. Then layer some paneer and yogurt cheese. Now repeat this process. Layer another layer of noodles and continue this until you have no more noodles. You may need 2 baking dishes if you run out of room.
20. The final layer on top of the lasagna should be a layer of noodles, sauce and paneer cheese only!!
21. Then you are ready to bake at 200C/390F for 20 minutes. No need to cover.
22. Serve with Hing Bread Rolls and a salad and you are ready to Serve!
By Bhaktin Christina