Spinach and Strawberry salad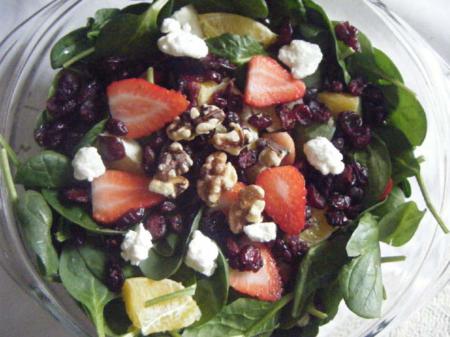 • 10 ounces fresh baby spinach
• 10 strawberries, sliced
• ¼ cup dried cranberries
• 1/3 cup roasted walnut
• ¼ cup feta cheese, optional
• 6 orange slices, optional
• 1/3 cup oil
• 2 tbsp cup balsamic vinegar or lemon juice
• 2 tbsp sugar
• 2/3 tsp salt
• ¼ tsp ground black pepper
• ¼ tsp dry hot mustard
• 1 pinch ground cayenne pepper
In a large bowl, combine the spinach, cranberries, feta
cheese, orange slices, walnuts, and strawberries.
In a large glass jar with tight fitting lid, combine the oil,
vinegar/lemon juice, sugar, salt, black pepper, dry mustard and
cayenne pepper. Shake well until sugar is dissolved.
Pour dressing to the salad just before serving and toss to
coat.
6-8
By Madhavi Devi Dasi