Spinach pies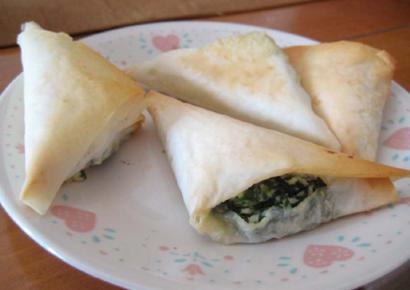 Ingredients
•1 cup cooked spinach
•¾ cup ricotta cheese*
•¾ tsp salt
•1 tsp black pepper
•½ tsp hing
•½ tsp chili powder
•1-2 tsp brown sugar
•1 package of filo dough (about 20 sheets) **
•½ cup melted butter or ½ olive oil ***
Preparation
1.This is a low-fat and quick version of spinach pie; I use ricotta cheese* (can be replaced with other types of Cheese) and filo dough** (In Turkey, spinach pies are made of bread dough which takes a while to make). Both are considered to be lite. My Lebanese friend would use a lot of lemon juice in the filling.
2.Mix spinach (squeeze out the water), cheese, salt, pepper, hing, chili powder, and sugar well. If you are using the filo dough instead of bread dough, make sure you defrost the package at least 4 hours before you make this preparation. Open one sheet at a time and cover the rest of the sheets as they tend to get dry quickly.
3.Fold the sheet 2 times to make a long strip. Brush some oil or butter on the end of the strip. Place 1 tablespoon of filling on the end of each filo sheet and fold over to form a triangle, covering the filling. Lifting the triangle up and over to form send triangle, continue folding until you reach the end of the strip. Adhere the edge of the pastry with
oil or butter.
4.Bake the pies on buttered baking sheet at 350F for 25 minutes or until they are golden brown.
Serves
20 pieces (minus or plus 2 normally)
By Madhavi Devi Dasi