Ambat Batata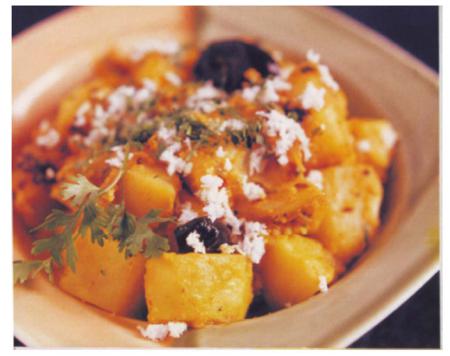 Ingredients

•Potatoes…………………5-6 medium sized
•Curry leaves……………. 3 medium sized
•Fresh coriander leaves…. ¼ medium bunches
•Green chilies…………… 3
•Oil………………………. 3 tbsp
•Mustard seeds…………… ½ tsp
•Cumin seeds…………….. 1 tsp
•Turmeric powder………… ½ tsp
•Yogurt…………………… ½ cup
•Kokum……………………4-5
•Coconut (scraped)……….. ¼ cup
•Salt………………………. To taste
•Lemon juice………………2 tsps
1.Wash, boil, cool and peel potatoes. Halve each potato and further cut each half into
four equal pieces. Wash and pat dry curry leaves.
2.Clean, wash and finely chop coriander leaves. Remove stems, wash and finely chop
green chilies.
3.Heat oil in a pan, add mustard seeds, and let them crackle. Add cumin seeds and
stir-fry briefly. Add curry leaves, green chilies and stir.
4.Add turmeric powder,potatoes and stir-fry for one to two minutes. Stir in yogurt,kokum, half of the chopped coriander leaves and half of the scraped coconut, salt and lemon juice. Reduce heat and simmer for
one to two minutes.
5.Garnish with remaining chopped coriander leaves, remaining scraped coconut and serve hot.
By Vaidehi