Ambda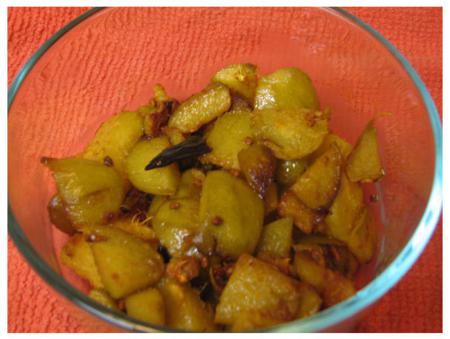 • 3 Tbsp ghee/oil
• 2 dry red chili
• ½ Tsp fenugreek seeds
• ½ Tsp yellow asafetida powder
• 5-6 ambda, cut in chunks
• 1 Tsp turmeric powder
• 1 Tsp salt
1. Heat oil in a pan over moderate heat. Drop the chili and sauté until it darkens a bit. Add fenugreek seeds and     asafetida and quickly add the ambda chunks.
2. Add turmeric powder and salt and cook partially covered over low heat until the vegetable is tender.
3.** The image of Ambda is shown below. It is a sour tasting, green skinned vegetable, having a single big seed inside, resembling in many ways to Indian Gooseberry (Amla). It generally grows in hot weather places.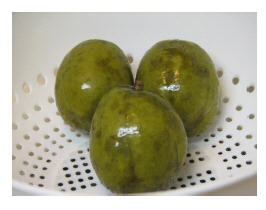 4
By Anand Lila Devi Dasi