Badami Babycorn paneer masala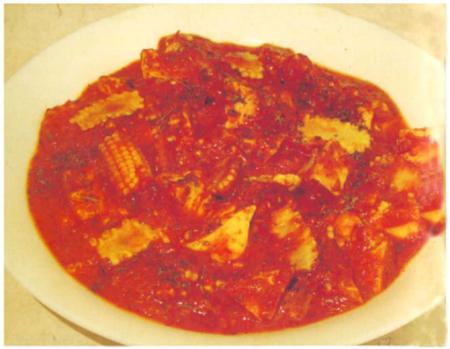 Ingredients

•
Baby corns…………………….. 10-12

•
Cottage cheese (paneer)… …. 200 gms

•
Ginger………………………….. 2 inch piece

•
Red chilies whole………………3-4

•
Almonds…………………………12-15

•
Oil……………………………….. 3 tbsp

•
Tomato puree……………………. 2 cups

•
Salt………………………………. To taste

•
Red chili powder……………….. 1 tsp

•
Cumin powder……………………½ tsp

•
Coriander powder…… …………2 tsp

•
Garam masala powder…………….1 tsp

•
Dry fenugreek powder (kasuri methi)… 1 tsp
1.Wash and thinly slice baby corns. Cut paneer into one inch sized triangular pieces. Peel, wash and chop half of the ginger and cut the remaining half into julienne for garnish.
2.Remove stems of whole red chilies. Grind red chilies, almonds and ginger into a fine paste using half a cup of water.
3.Heat oil in a pan; add the ground paste and saute for three to four minutes. Add tomato puree, salt and continue to saute for a couple of minutes. Add red chili powder, cumin powder and coriander powder and saute until oil comes on top of the spice paste.
4.Stir and add sliced baby corn, paneer pieces, garam masala powder and mix well. Cover and cook on low heat for five
minutes.
5.Lightly roast kasuri methi and crush. Sprinkle over the gravy. Garnish with ginger julienne strips and serve hot.
By Vaidehi