Baked Eggplant Puree with Seasoned Yogurt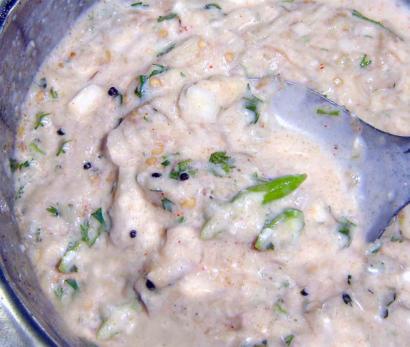 Eggplant bharta, in one form or another, is a national favorite of India. I learned to make this variation during my first Bombay residence in the kitchen of the Kalish Seksaria family. The cooks excel at several regional cuisines, and this Punjabi-style presentation was a favorite of hosts and wood fire until they nearly fell apart. Chilies and seasonings gave the dish a feisty punch, and the yogurt added creamy distinction.
Preparation time (after assembling ingredients): 5 minutes
Cooking time: 15 minutes
Ingrediants
• Freshly baked, roasted or broiled eggplant – 1 medium-sized (1-1 ¼ pounds/455-570 g)
• Ghee or vegetable oil – 2 table spoons (30 ml)
• Hot green chilies, seeded and minced – 1-2 teaspoons (5-10 ml)
• Yellow asafetida powder (hing) – ¼ teaspoon (1 ml)
• Cumin seeds – 1 teaspoon (5 ml)
• Salt – 1 teaspoon (5 ml)
• Finely chopped fresh coriander and mint – 2 table spoons (30 ml) each
• Plain yogurt or sour cream – 2/3 cup (160 ml)
• Garam masala – 1 teaspoon (5 ml)
Preparation
1. Slice the eggplant in half lengthwise and carefully scoop out the pulp. Discard the skin and coarsely chop the pulp.
2. Heat the ghee or oil in a large nonstick frying pan over moderate heat. When it is hot but not smoking, add the green chilies, asafetida and cumin seeds darken. Add the eggplant, ground coriander and salt, and cook, stirring frequently, until the mixture is dry and thick, about 10 minutes.
3. Remove the pan from the heat and let cool to room temperature. Stir in the fresh herbs. Yogurt or sour cream and garam masala. (You may want to add a sprinkle of smoked salt if you baked the eggplant in an electric or gas oven). Serve hot, at room temperature or chilled.
Note: This amount applies only to yellow Cobra Brand. Reduce any other asafetida by three-fourths.
By Yamuna Devi Dasi