Baked Yoghurt Chakras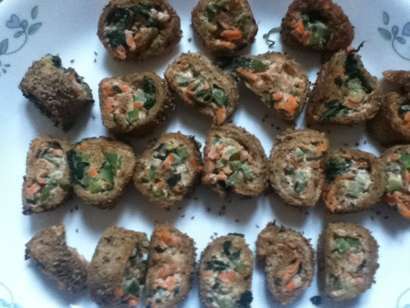 Ingredients
• Bread ( plain/ multi grain brown bread) – 4 slices
• Milk – 2-3 tbsp
• Ajwain ( carom seeds) – 1 tsp
• Moong sprouts/cottage cheese, optional – 4 tbsp
• Spinach leaves – 9
For the Filling
• Curd, 1 cup – hang for 1 hour in a thin muslin cloth and squeeze
• Grated and squeezed carrot- ½ cup
• Capsicum, finely chopped- ½ cup
• Green chilli ,finely chopped- 1
• Salt- 1 tsp
• Peppercorns, crushed- ½ tsp
• Dhania and red chilli powder- ½ tsp each
• Tomato ketchup ( masala chilli)- 1 tsp
• Roasted cumin (jeera) powder- ½ tsp
Preparation
1. Hang curd for 1 hour. Squeeze well and drain out all the water. Put the curd in a bowl and mix all the other ingredients of the filling with the curd lightly with a fork. Keep aside.
2. Cut the sides of the bread slices. Keep 2 bread slices slightly overlapping each other about ¼ '' to get a long piece. Press applying pressure with a rolling pin/ belan, so that the holes of the bread close. ( you can microwave the bread slice for a few seconds before rolling)
3. Spread spinach leaves without the stalks on the bread
4. Spread a layer of filling on the leaf and the empty spaces.
5. Sprinkle some sprouts/cottage cheese on the filling. Roll carefully
6. Seal end by applying some curd/the squeezed curd water. Press well
7. Brush milk on the roll. Spread some ajwain on a plate and roll the bread roll over it.
8. Gently cut each roll into 4-5 pieces to get wheels/ chakras of ¼ '' thickness. Place wheels standing upright on a baking tray or on a oven rack covered with foil.
9. Bake in a hot oven at 200 F for 10-15 minutes till edges turn golden.
10. Offer to the Lord and serve immediately.
By Bhaktin Meena