Banana Cream Pie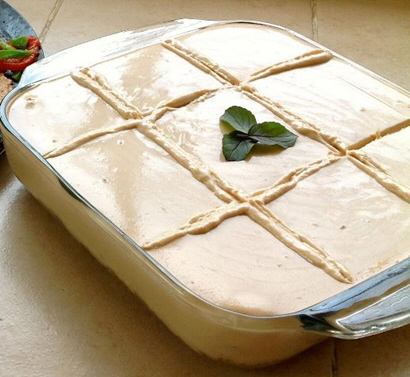 Ingredients
For Pie Crust
• 1 cup rolled oats
• 4 tablespoons brown sugar
• 1/4 teaspoon salt
• 1/3 cup melted butter or ghee
• 2/3 cup finely minced almonds (You can also use walnuts or pecans. Any nut you have in the kitchen)
For Filling
• 2 medium or 4 small fully ripe bananas
• 3 cups yogurt cheese (see below how to make this)
• 1 3/4 cup sweetened condensed milk
• 3 Tbsp Cornstarch
• 2 tbsp lemon juice
• 1 vanilla bean (optional)
• 1/4 tsp sea salt
Preparation
1. Toast oatmeal in a shallow pan for 10 minutes to brown, watch carefully.
2. Remove from oven and in small mixing bowl combine oatmeal with remaining ingredients.
3. Press into 9-inch pie plate.
4. Preheat the oven to 375 degrees F.
For Filling
1. In large mixer bowl beat yogurt cheese until fluffy.
2. Gradually beat in sweetened condensed milk until smooth.
3. Mash the bananas first then add into the mixture.
4. Stir in lemon juice and vanilla
5. When the mixture is a creamy thick consistency you are ready to pour over your crust.
6. Bake for 35 minutes or until the cream cake is no longer sticky when touched gently.
7. Cool the cake completely, cover and chill for a minimum of 5 hours or 2 hours in the fridge. Then you are ready to serve to Kṛṣṇa!
Yogurt Cheese Recipe
1. Drain the yogurt – Put a muslin or cheese cloth over a strainer. Now pour the yogurt over muslin cloth to drain. Place a bowl underneath the strainer to collect the excess water.
2. Next gently squeeze the excess water from yogurt. Make sure not to squeeze out the yogurt.
3. Move the yogurt with strainer and bowl into the refrigerator for at least six hours to drain excess water.
4. Yogurt will become thick in consistency.
Notes
When the water is draining from the yogurt, it's suggested to keep the yogurt in the refrigerator in order to keep the yogurt from becoming more sour.
By Bhaktin Christina
Source : https://www.facebook.com/KrsnasTreatsAndInspiringIdeas