Batter for All Pakoras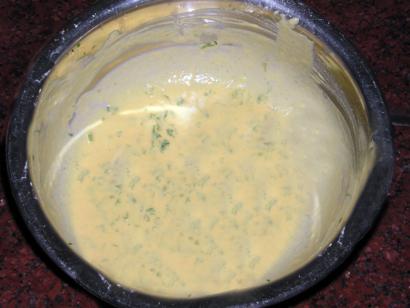 Mixed vegetables pakoras are one of the most popular of all finger-food snacks. At home, they are not only a late-afternoon favorite at Tiffin time, but are also frequently served on entertainment menus, from holidays to wedding buffets. If you are frying several types of vegetables with one batter, here is a good choice. Made with chickpea flour, ground spices and ice water, the batter puts a crisp crust on fried foods. If you prefer a cake-like, light crust, add baking powder. You need a medium consistency batter that will thoroughly coat moist foods like panir cheese or tomatoes, but will not be too thick for delicate foods such as spinach or Swiss chard.
One flour absorbs water differently than another, and one cook's measurement of flour varies from another's. For 1 1/3 cups (135 g) of sifted chickpea flour (3 ½ ounces/135 g), 8 table spoons (120 ml) of ice water yields a thickish batter; 10 table spoons (150 ml) a thinnish one. Add water in small amounts toward the end of mixing to achieve the desired results.
Try any of the following pakora suggestions, allowing 25-35 cut pieces for this amount of batter. Depending on the accompanying dishes, allow 4-5 pakoras per person.
Preparation time (after assembling ingredients): 10 minutes
Resting time: 10-15 minutes
Cooking time: about 30 minutes
Pakora suggestions:
• Underripe banana, cut into rounds – 1/3 inch (1 cm) thick
• Cauliflower flowerets, 1 ½ inches (4 cm) long and ½ inch (1.5 cm) square, half-cooked
• Eggplant, cut into rounds ¼ inch (6 mm) thick
• Potato or yam, peeled and cut into rounds 1/8 inch (3 mm) thick
• Lotus root, washed, peeled, steamed for ½ hour, cut on the diagonal ¼ inch (6 mm) thick, and patted dry
• Pumpkin, cut into 2-inch (5 cm) squares ¼ inch (6 mm) thick,
• Spinach, medium-sized leaves, stemmed, washed and dried
• Bell peppers (red, yellow or green), sliced crosswise
• ¼ inch (6 mm) thick, seeded and ribbed
• Green tomatoes cut into rounds 1/3 inch
• (1 cm) thick and thoroughly patted dry
• Zucchini, cut on the diagonal ¼ inch (6 mm) thick
• Asparagus tips, blanched and dried

Ingredients
• sifted chickpea flour (sifted before measuring) – 1 1/3 cups (135 g)
• melted ghee or vegetable oil – 2 teaspoons (10 ml)
• lemon juice – 1 table spoon (15 ml)
• cayenne pepper – ¼ teaspoon (1 ml)
• turmeric – ½ teaspoon (2 ml)
• garam masala – 1 teaspoon (5 ml) or each ground cardamom, cumin, cinnamon and cloves – ¼ teaspoon (1 ml)
• ground coriander – 2 teaspoons (10 ml)
• salt – 1-1 ½ teaspoons (5-7 ml)
• cold water, or as needed – 9 table spoons (135 ml)
• baking powder (optional) – 1/3 teaspoon (1.5 ml)
Preparation
1.
Combine the flour, melted ghee or oil, lemon juice, spices and salt in a bowl and mix well. Add 5 table spoons (75 ml) of water slowly, beating with an electric beater or wire whisk until the batter is smooth and free of lumps. Slowly add 3 table spoons (45 ml) more water, continuing to beat until well mixed. Check the consistency of heavy cream and easily coats a wooden spoon. Alternately, place the butter ingredients in a food processor fitted with the metal blade, or a blender, process until smooth, then transfer to a bowl. Cover the batter and set aside for 10-15 minutes.
2.
Again beat with an electric beater, wire whisk or your hand for 2-3 minutes to further lighten the batter. (Check the batter consistency: if it is too thin, moist foods will spatter as they fry; if it is too thick, they will not cook properly. Add flour or water as necessary). Stir in the baking powder at this time if you prefer a cake-like crust. Set all of the items to be fried next to the stove. They should be patted dry and at room temperature.
3. heat 2 ½ -3 inches (6.5-7.5 cm) of fresh ghee or vegetable oil in a karai, wok or deep-frying pan until the temperature reaches 355 F (180 C). Dip 5 or 6 of your selected ingredients in the batter and, one at a time, carefully slip them into the hot oil. The temperature will fall but should then be maintained at between 345-355 F (173-180 C) throughout the frying. Fry until the pakoras are golden brown, turning to brown evenly. Leafy greens may take as little as 1 or 2 minutes per side, while potatoes may take up to 5 minutes per side. Remove with a slotted spoon and drain on paper towels. Serve immediately, or keep warm, uncovered, in a preheated 250 F (120 C) oven until all the pakoras are fried for up to ½ hour.

Note: It is convenient to keep a bowl of water and a tea towel near the frying area. After batter-dipping the items to be fried, rinse and dry your hands before continuing your frying.
Serves
6
By Yamuna Devi Dasi