Besan Ladu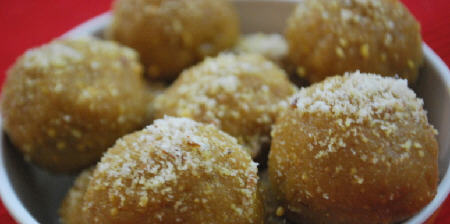 Ingredients :
•Besan (chickpea flour) – 1 cup (250 grams approx)
•Desi ghee – 1/2 cup
•Powdered sugar – 1/2 cup – 3/4 cup
•Cardamom powder – 1 teaspoon
Preparation :
1. First, warm the ghee on low heat. make sure it is not very hot, it should be just warm.
2. It adds flavour to the laddus and at the same time acts as a binding agent.
3. Next, sift besan (chickpea flour).
4. Add this flour to the warm ghee.
5. Mix them well and keep the heat on low-medium.
6. Now, roast this mixture till the time it gets well cooked. This will take around 10-15 minutes. A very nice aroma starts coming from this mixture. that is the time when you get to know that it is done.
7. Turn off the flame and allow the mixture to turn warm from hot.
8. Once, it turns warm, add powdered sugar to it & mix well.
9. You can also add some almonds and raisins and cardamom powder to this mixture at this point.
10. Put some mixture on your palm when it is warm & turn it into round laddus.
11. If you have any problem in making the laddu, add a little milk.
12. The mixtrue won't look sticky enough, but it will form round and beautiful laddus.
13. Garnish with powdered almonds as I did it or you can even use whole almonds or raisins to garnish.
14. Besan laddus are ready to serve.