Bhagavad Gita Cake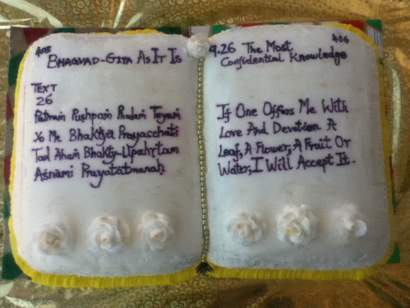 1. Assembling the Bhagavad Gita CakeOn a prepared cardboard keep two layers of chocolate cake with chocolate icing in between the layers on one side of the board and two layers of orange cake with orange icing in between the layers on the other side, both should be touching each other closely-resembling an open book. 2. Keep an open Bhagavad Gita book in front of you and shape the cake accordingly. Giving a slant on the outer parts and a nice cut on the middle bottom part.
3. Ice both the cakes with cream cheese frosting/butter cream icing. Keep in the fridge for half hour to dry. When dry smoothen it with a parchment paper. Write the shlokas on the cake with black colored butter cream icing using tip number 1 or 2. I used tip number 1.
4. Using a toothpick, carefully write the desired message on the iced cake. Use this as a guide for writing on the cake. Before doing so, it's best to practice a bit on a plate to get a feel for the pressure required.
5. Use the cake comb on the sides of the cake to give the 'pages' effect or you can use a ruler too.
6. Border the cake with yellow icing which was mixed with very little black color. Carefully decorate the bottom center of the cake giving it a raised look.
7. Edible beads was used to make a bookmark. You can make a book mark using gumpaste strands or ice with tip number 150, use red icing for book mark.
8. Edible Gold dust was sprinkled all over and decorated with edible buttercream gold dusted white roses
9. Offer to the Lord and serve the mercy.
10. This was made during Gita Jayanti day celebration- 2012 Dec 23rd.
Ingredients for the Chocolate Cake:
• 2 cups (220 gms) All Purpose Flour -(sifted)
• 3/4 cup (85gms) Unsweetened Cocoa Powder/Carrob powder/ -(sifted)
• 1 and 1/2 teaspoon Baking Soda
• 1 and 1/4 teaspoon Baking Powder
• 1/4 teaspoon Salt
• 3/4 cup (170gms) Unsalted Butter, at room temperature
• 3/4 cup (170gms) Granulated Sugar-(sifted)
• 3/4 cup (150gms) Brown Sugar, lightly packed
• 1/2 tablespoon Apple Cider Vinegar
• 1 and 1/2 cups Buttermilk/water
• 1 teaspoon Vanilla Extract
Procedure for the Chocolate Cake:
1. Preheat oven to 325F/160C for 15 minutes. Line two 7 or 8 inch square cake pans with parchment paper and grease it lightly with non stick cooking spray
2. Sift together the flour, cocoa powder, baking powder, baking soda and salt in a medium sized bowl. Stir until mixed.
3. Beat butter with sugars in a large bowl, using an electric mixer on medium for about 3 minutes.
4. Add the applesauce in two additions, beating well and scraping down sides of bowl after each addition. Mix in the vinegar too. The mixture will look curdled but don't worry.
5. Beat in vanilla.
6. Reduce speed and beat one third of flour mixture into butter mixture, then add half the buttermilk.
7. Repeat additions, scraping down sides until well mixed.
8. Divide batter evenly between pans and smooth tops. Tap the pans lightly to burst air pockets if any.
9. Bake in center of oven until a tooth pick inserted in center of cakes comes out clean, 25 to 30 min. If using two racks, move the pan from the top rack to the bottom and the vice-versa in about 15 minutes.
10. Cool in pans on a rack for 10 minutes.
11. Run a knife around inside edge of each pan and then turn cakes out onto rack.
12. Remove parchment. Let cool completely, about 1 hour or overnight before frosting the cake.
Ingredients for Chocolate Frosting/Icing:
• 1 cup (2 sticks or 225 gms) Unsalted Butter, at room temperature
• 225-g Unsweetened Chocolate/ carob chocolate pieces, chopped and melted (1 1/4 cup approx.)
• 1 tablespoon Vanilla
• 1/4 teaspoon Salt
• 6 cups Icing Sugar (4 cups sifted powdered sugar or 3 1/2 cups unsifted powdered sugar = 1 pound)
• 1/2 cup Milk
• 1/4 cup water/Milk
Procedure for Chocolate Icing:
1. Beat butter for icing in a large bowl, using an electric mixer/hand beater on medium, until creamy, for 1 min.
2. Add melted chocolate, vanilla, salt and 1 cup icing sugar. Beat for 1 minute.
3. With mixer on medium-low, add remaining sugar in 3 parts, alternating remaining liquids (milk and water ) and ending with sugar.
4. Beat on medium-high, scraping down sides of bowl as needed, until fluffy and smooth, 1 to 2 minutes.
Ingredients for Orange Cake (vegan-dairy free):
• 3 cups all purpose flour (sifted)
• 1 ½ cup sugar (sifted) (you can reduce sugar by 1-2tbsp if needed)
• 2 tsp. baking soda
• 1 tsp. baking powder
• 2 cup orange juice plus 2 tsp. of grated rind
• 2/3 cup vegetable oil (Plus an extra tbsp.)
Procedure for Orange Cake:
1. Preheat oven to 350 degrees F. Generously grease and/or line two 7'' or 8" square baking pan with parchment paper.
2. In a bowl, stir together flour, sugar, baking soda, baking powder.
3. In another bowl mix orange juice, oil and rind with an electric mixer.
4. Add to the dry ingredients. Beat lightly with an electric beater, just enough to combine the ingredients, so as to avoid a flat cake. Do not overbeat.
5. Transfer batter to the prepared baking dish.
6. Bake for 30-35 minutes or until golden brown and a toothpick inserted in center comes out clean.
7. Cool completely. Preferably overnight.
Ingredients for Orange Frosting: yields 2 cups
• 1/2 cup butter, softened ( 1 stick butter)
• 4 cups confectioners' sugar (1 pound confectioners sugar)
• 2 teaspoon grated orange peel
• 1 ½ teaspoon vanilla extract
• 2 to 3 tablespoons orange juice (can add 2-3 tbsps more if thinner version is needed)
• Orange pieces –finely chopped, squeeze the juice out. Let it stand in the strainer for 15-20 mts= 1-2 cups (optional)
Procedure for Orange Frosting
1. In a small bowl, cream butter until light and fluffy.
2. Beat in the confectioners' sugar, orange peel and vanilla.
3. Add enough orange juice to achieve frosting consistency.
4. Combine the orange pieces to the frosting and put in between the two layers of the cake
Cream Cheese Frosting :for the top of the cake
Makes 4 cups
Ingredients
• 8 ounces (2 sticks) unsalted butter, room temperature
• 12 ounces cream cheese, room temperature
• 1 pound (4 cups) confectioners' sugar, sifted
• 3/4 teaspoon pure vanilla extract
Preparation:
1. Beat butter and cream cheese with a mixer on medium-high speed until fluffy, 2 to 3 minutes. Reduce speed to low. Add sugar, 1 cup at a time, and then vanilla; mix until smooth.
Basic Butter Cream Icing
Makes 3 cups approx
Ingredients:
• 1/2 cup solid vegetable shortening (Crisco)
• 1/2 cup butter or margarine
• 1 teaspoon clear vanilla extract
• 4 cups sifted confectioners (10X) sugar, about a 1 pound box
• 4-8 tablespoons milk/water
Preparation: 1. Cream butter and shortening with electric mixer. Add vanilla. Gradually add sugar, 1 cup at a time, beating well on medium speed. Scrape bottom and sides of bowl often. 2. When all sugar has been mixed in, icing will appear dry. Add milk/water and beat at medium speed until light and fluffy. 3. Prepared icing will keep for 2 weeks if refrigerated in a tightly covered container. 4. Frost cake as desired. If adding color to frosting, remember that liquid food coloring will thin the icing. Use paste food colors. 5. For writing: Thin down icing until of desired consistency with a little milk/water. Add half tsp of colourless piping gel to a cup of buttercream icing. Beat well. Spoon into decorator bag that has been fitted with desired writing tip. I used tip number 1.
By Meena Samtani/Madhulila Dasi