Ekadasi Cauliflower Pakoras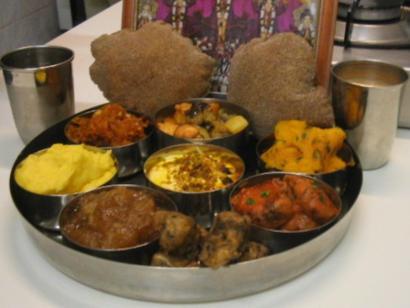 Ingredients:
• Each of buckwheat and arrowroot flour – 1 cup
• Baking powder – 2 tsp
• Salt – 2½ tsp
• Pure asafoetida powder – 2 tsp
• Cayenne pepper – 2 tsp
• Ground coriander – 1½ tsp
• Nigella seeds – 2 tsp
• Cold water, or enough to make a smooth batter – 2½ cups
• Cauliflower cut into florets – 1 large
• Ghee or oil for deep-frying
Preparation:
1. Combine the flours, salt, powdered spices, and green chilies in a bowl. Mix well with a wire whisk.
2. Whisk in sufficient cold water to make a batter the consistency of medium-light cream. When you dip the vegetable in the batter, it should be completely coated but neither thick and heavy nor runny and thin. Have extra flour and water on hand to adjust the consistency as required. Let the batter sit for 10 to 15 minutes.
3. Heat the ghee or oil to a depth of 6 – 7 cm in a wok or deep-frying vessel until the temperature reaches about 180°C/355°F.
4. Dip 5 or 6 pieces of cauliflower in the batter and, one at a time, carefully slip them into the hot oil. Fry until the pakoras are golden brown, turning to cook them evenly on all sides. Remove with a slotted spoon and drain on paper towels. Continue cooking until all the pakoras are done. Serve immediately or keep warm, uncovered, in a preheated cool oven for up to ½ hour.
By Kurma