Bread Masala Fried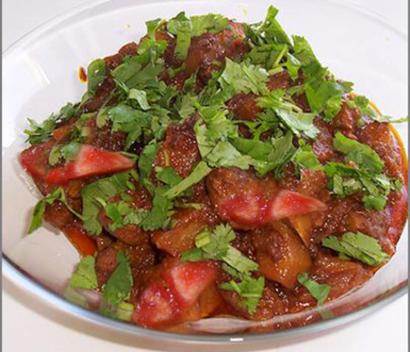 Ingredients
• Bread slices – 6
• Butter – As required
• Mustard & urad dal – ½ tsp
• Tomato – 1 medium size (chopped)
• Curry leaves – 1 spring
• Garam masala powder – ¾ tsp
• Chili powder – ¾ tsp
• Coriander leaves – 2 tbsp(chopped)
• Oil – 2 ½ tbsp
• Salt to taste
Preparation
1. Cut the bread slices into bitable size pieces & shallow fry in butter till it becomes golden brown. Keep it aside.
2. Heat oil in a pan, splutter mustard & urad dal.
3. Add tomatoes, chili powder, garam masala powder and salt, fry till it becomes mushy.
4. Now add the bread slices and fry till it incorporates with the masala.
5. Garnish with coriander leaves.
Serves
2 Persons
By Bhaktin Ranjana