Brocccoli and Almond Soup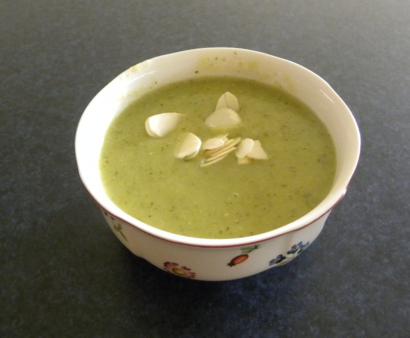 Ingredients
• Broccoli – 400 gms
• Celery – 2 inch stalk
• Almonds – 10-12
• Low fat milk – 1 cup
• Salt – To taste
• White pepper powder – to taste
Preparation
1. Cut broccoli into small florets, wash well, soak in salted water for ten to fifteen minutes and then drain.
2. Trim, wash and chop celery stalk.
3. Boil or dry roast almonds on medium heat till almond skin changes its color slightly.
4. Remove from heat, cool and slice into slivers.
5. Heat four cups of vegetable stock or water with celery. Bring it to a boil.
6. Add broccoli florets and cover pan.
7. Continue to cook for five to seven minutes or till broccoli is just done.
8. Remove from heat, cool and puree in a blender.
9. Add milk to pureed broccoli and mix well. Bring to a boil again.
10. Add salt and white pepper powder to taste.
11. Stir almond in Soup and serve hot.
Serves
4 Persons
By Bhaktin Sushma