Burritos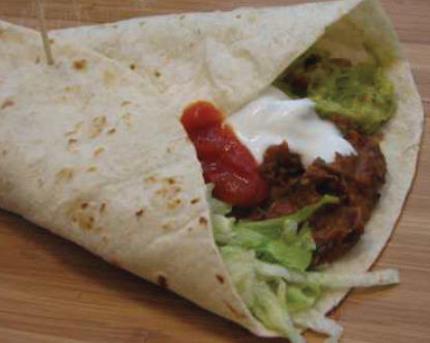 Ingredients
Plain flour 6-inch tortillas…………………………………… 8
(if unavailable, substitute with chapattis)
Sour cream……………………………………………………… 1 C
Lettuce, shredded coarsely………………………………… 1
Tomato Sauce:
Olive oil…………………………………………………………. 2 Tsp
Yellow Asafetida powder………………………………….. ½ Tsp
Green chilies…………………………………………………… 2
Tomato puree …………………………………………………. 1 ½ C
Salt………………………………………………………………… ½ Tsp
Sugar……………………………………………………………… 1 Tsp
Lemon juice……………………………………………………… 2 Tsp
Beans:
Olive oil………………………………………………………….2 Tbsp
Yellow asafetida powder…………………………………..1 Tsp
Ajwain seeds……………………………………………………1 Tsp
Cumin powder………………………………………………….½ Tsp
Red chillies ………………………………………………………2-3 dried
Cooked beans…………………………………………………. 32 oz or 900 g
(red or black kidney beans)
Water …………………………………………………………….¾ C
Salt ………………………………………………………………..1 Tsp
Tomato sauce………………………………………………….. 2 Tbsp
Mexican Rice:
Olive oil……………………………………………………1 Tsp
Yellow asafetida powder…………………………….¼ Tsp
Red chilly…………………………………………………..1 dried
Ajwain seeds …………………………………………….¼ Tsp
Olives, cut into halves…………………………………..7-8
Parboiled Mexican style rice………………………..½ C
Tomato sauce above prepared……………………….2-3 Tbsp.
Salt …………………………………………………………….½ Tsp
Water…………………………………………………………..1 C
Guacamole:
Ripe avocado……………………………………………….. 1 big
Tomato finely chopped………………………………….. 1
lemon juice…………………………………………………… 1 Tbsp
Asafetida powder………………………………………….. ½ Tsp
Salt………………………………………………………………. ½ Tsp
Ground black pepper……………………………………… ½ Tsp
Preparation
For the tomato sauce:Heat the oil in a small saucepan, add asafetida powder, green chilies, sauté for 30 seconds. Pour the tomato puree; add the salt, sugar and lemon juice. Cook for 10-12 minutes or until slightly thickened.
For the Beans:Heat the oil over moderate heat in a heavy frying pan. Add asafetida, after 10 seconds, add ajwain, cumin and dried red chillies. Saute them until aromatic. Add the beans, water and salt. Mash the beans coarsely. Stir often to prevent the beans from sticking to the bottom of the pan. A little extra water can be added if needed. Cook on low heat until it reduces to a thick chunky paste about 20 minutes. Lastly add tomato sauce prepared and cook for 5 more minutes.
For the rice:Heat oil in a saucepan, add asafetida, chilly and ajwain seeds. Saute for a while, add the olives and rice, stir-fry them for 1 minute. Add the tomato sauce, water and salt. Raise the heat and bring it to a boil, quickly stir, reduce the heat to very low, cover and cook until rice is done.
For the guacamole:Scoop out the flesh of the avocado from its outer skin and mash it. Combine the mashed avocado, tomatoes and all the rest of the ingredients. Keep aside.
To assemble the ingredients and serve; heat the tortillas slightly. Place 1/8 portion of each cooked beans, rice, guacamole and sour cream. Sprinkle with lettuce. Bring the two sides of tortilla overlapping each other and insert a toothpick to hold. Serve with tomato sauce.
Yield
8 burritos
By Anand Lila Devi Dasi