Butternut Squash Soup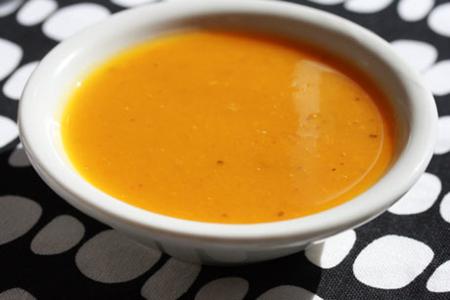 Ingredients
Butternut squash………………………. 1 Kg or 2.2 pounds
Water…………………………………….. 8 C
Butter ……………………………………. 3 Tbsp
Asafetida powder…………………….. ½ Tsp
Ground cinnamon…………………….. ½ Tsp
Salt………………………………………… 1 Tsp
Milk……………………………………….. 1 ¼ C
Preparation
1)In a saucepan boil water. Cut the squash in big chunks and cook
in the boiling water until very tender. Drain the squash.
2)Scoop out the flesh of the squash discarding the skin. Process the
squash to a smooth puree in a blender.
3)Rinse the saucepan; melt the butter over moderate heat. Add
asafetida and ground cinnamon, sauté until fragrant. Pour the
squash puree to the saucepan and add salt. Stirring often, cook
for 10 minutes on low heat.
4)Add milk, stir constantly until well blended. Reduce the heat to
very low and cook for 5 minutes. If you desire a thinner soup,
little more of milk or water can be added. Serve hot.

Serves
4-6
By Anand Lila Devi Das