Carrot and Raisins Salad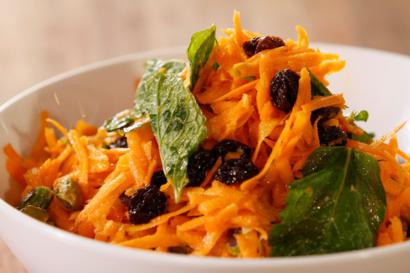 Ingredients
• Carrots – 4-5 large sized
• Raisins – ½ cup
• Green chili – 1
• Fresh mint leaves – 6-8
• Lemon juice – 2 tbsp
• Peppercorns (crushed) – ¼ tsp
• Honey – 1 tbsp
• Salt – To taste
• Black salt – ¼ tsp
• Walnut kernels (crushed) – 6
• Oil – 1 tsp
• Pista – 2 tbsp
Preparation
1. Peel, wash and thickly grate carrots, Refrigerate till use.
2. Wash, remove stalks of raisins and put them dry.
3. Remove stem, wash and finely chop green chili.
4. Clean and wash mint leaves and keep aside for garnishing.
5. Combine lemon juice, crushed peppercorns, green chili, honey, salt, black salt, walnuts, raisins, pista and oil to make a dressing.
6. Just before serving add dressing to grated carrots and toss. Serve garnished with mint leaves.
Serves
4 Persons
By Bhaktin Shanti