Taiwanese fried rice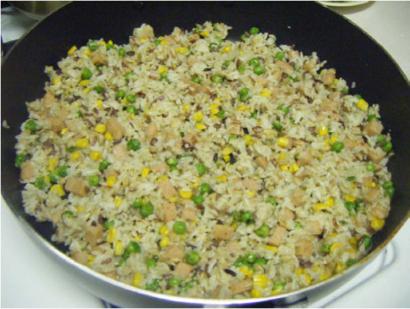 Ingredients
•1 cup medium grain rice (the best is from Japan or Korea)
•½ cup barley
•1 cup corn kernels (fresh or frozen)
•1 cup green peas or edamame (green soy beans)
•½ cup cooked wild rice (purple rice)
•1 cup soy ham, cubed*
•1 ½ tsp salt
•1 tsp pepper
•3-4 tbsp oil
Preparation
1.Cook rice and barley according to package direction. Cook ¼ cup wild rice in a separate pot or your rice will look very purple.
2.Heat oil in the pan, add soy ham (you can get this in some Asian markets), peas, corns and salt and pepper. Cook for 5 minutes, stir frequently. Add cooked rice/barley and wild rice and continue cooking for another 5 minutes.
3.**If you like, you can add soy sauce or ketchup.
Serves
4
By Madhavi Devi Dasi