Carrot Soup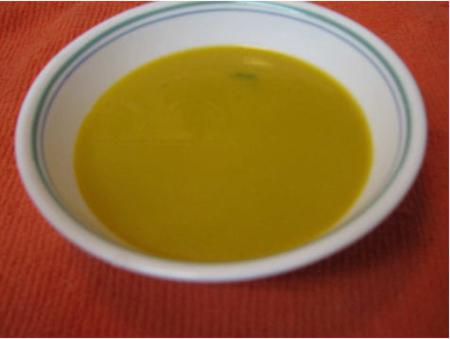 Ingredients
• 10 medium sized carrots, peeled
• 4 C water
• 2 Bay leaves
• ½ Tsp yellow asafetida powder
• 2 Tbsp chopped fresh parsley
• 1 Tsp salt
• 1 Tbsp olive oil
• 1 Tbsp chopped ginger
• 1 Tbsp rice
• ¼ Tsp ground black pepper
Preparation
1. Shred two carrots and dice the remaining 8 carrots.
2. Prepare the stock by combining shredded carrots, water, bay leaves, ¼ Tsp
asafetida, parsley and ½ Tsp salt in a saucepan. Bring to a boil, and then
simmer. Cook covered for 30 minutes.
3. Heat oil in a pot over moderately heat. Sprinkle the remaining asafetida; add
the ginger, rice and the diced carrots. Cook for 2-3 minutes. Pour the stock
through a strainer. Add more water if required. Add the remaining salt and
black pepper. Cover the pot; simmer until the carrots and rice are fully
cooked.
4. Puree the soup, and then return back to the pot. Cook for 10 more minutes.
Serve hot.
Serves
4
By Anand Lila Devi Dasi