Cashew Nut Pakoda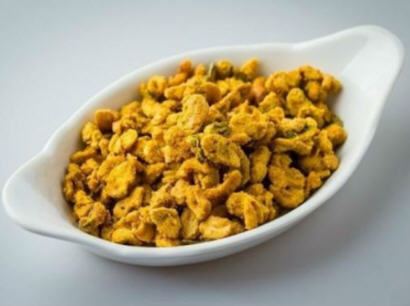 Ingredients
. 1 cup gram flour
. 1/2 cup rice flour
. 1/2 cup cashew nuts
. 2 tsp melted ghee
. 4 green chillies
. 1 inch ginger fresh
. 1 sprig curry leaves
. 3/4 tsp chilli powder
. Salt as per test
. ½ tsp asofoetida
. 3/4 tsp bicarbSoda
Preparation
1 Chop green chillies, ginger and curry leaves into small pieces.
2 Chop cashewnuts into medium sized pieces. Sieve gram flour and rice flour through a fine sieve.
3 Place the ghee and soda together and rub it well with your palm till the mixture becomes whitish in colour.
4 Add all the chopped ingredients, both the flours, salt and chilli powder, quarter cup of water and mix into a stiff dough. Add the water carefully.
5 Heat ghee in a kadai, when hot break small pieces of the dough and drop them into the hot ghee.
6 Deep fry these pakodas over medium heat till crisp and golden in colour. Serve hot.
By Neha Kaul