Cauliflower Balls Tomato-Soy Sauce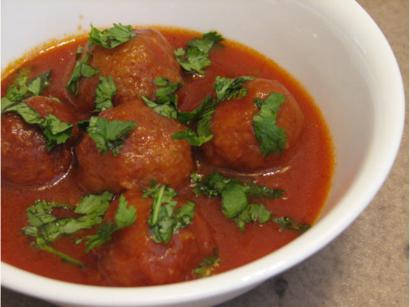 •

Cauliflower, finely grated………………….1small
•

Ginger, grated………………………………….1Tbsp
•

Green chili, chopped…………………………1
•

Soy sauce…………………………………………1Tbsp
•

Salt………………………………………………….¾Tsp
•

Cornflour/cornstarch……………………….½ C
•

Oil…………………………………………………..2Tbsp
•

Asafetida powder…………………………….1 Tsp
•

Ginger, grated…………………………………1 ½Tbsp
•

Green chilies, chopped……………………..2
•

Tomato puree………………………………….1 ½ C
•

Soy sauce…………………………………………1Tbsp
•

Water……………………………………………….½C
•

Salt………………………………………………..1Tsp
•

Cornflour/cornstarch…………………….1 Tsp
•

Chopped fresh………………………………2 Tbsp
1) Squeeze out the excess water from thegrated cauliflower. In a mixing bowl, combine all the ingredients for
theballs. If the mixture seems to be loose to make balls then add some more of the cornflour . Adjust the quantity of the cornflour accordingly. Formthe mixture into 1-inch smooth balls.
2) Heat oil in a frying pan over moderatelyhigh heat. Deep fry the cauliflower balls working 5-6 at a timeuntil golden brown. Drain on paper towels.
1) Heat oil in a saucepan over moderateheat; add asafetida, ginger and green chilies and sauté for a while. Add thetomato puree, soy sauce, water and the salt. Bring to a boil andreduce the heat to low. Cook partially covered for 20-25 minutes or untilthe sauce slightly thickens.
2) Dissolve 1 Tsp of cornflour in 2 Tsp ofcold water and add to the simmering sauce. Cook uncovered for 2 moreminutes.
3) Add the cauliflower balls and garnishwith chopped coriander leaves. Serve hot with fried rice.
By Anand Lila Devi Dasi