Cheese Fritters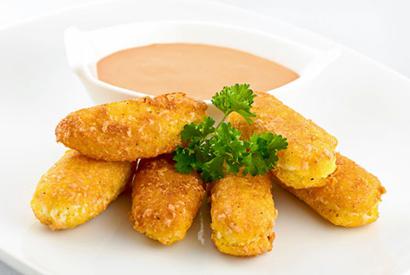 Ingredients
For the fritters:
• Water – 2 cups
• Salt – 1 tsp
• Corn meal – 1 ¼ cups
• Shredded cheese – 1 cup
For the sauce:
• Ketchup – 2 tbsp
• Mayonnaise – 2 tbsp
• Hot sauce – 1 tsp
• Fresh lime juice – 1 tsp
Preparation
1. In a saucepan boil water and add salt to it.
2. Stir cornmeal in it and remove from heat.
3. Add cheese to it and allow to cool.
4. It is better to refrigerate this for about 30 minutes.
5. Scoop out about 2 teaspoons of the mixture or enough to form an oblong about 2 inches in length.
6. Fry in plenty of oil at about 350 degrees until golden brown and crisp.
7. For making the sauce, combine all the ingredients of sauce in a bowl and serve it with hot cheese fritters.
Serves
4-5 Persons
By Bhaktin Shanti