Cheesy Veggie Flat breads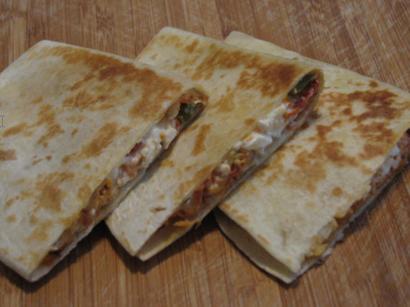 Ingredients
•Cream cheese softened……………………………..½ C
•Cottage cheese…………………………………………½ C
•Ground black pepper………………………………..½ tsp
•Green chilies chopped finely……………………….2
•Big tomato chopped ………………………………….1
•Bell pepper chopped………………………………….1
•Oil…………………………………………………………..5 Tsp
•Eight-inch tortillas……………………………………….5
(if unavailable substitute with chapatis)
Preparation
1) In a mixing bowl, combine the cheese, black pepper, chilies, tomatoes and bell pepper. Divide the mixture in five parts.
2) Spread one part of the filling on half of each tortilla, leaving a 2 cm border. Fold the other uncovered half to cover the filling so that you end up forming a semi-circle.
3) Heat a frying pan over moderate heat. Add 1 tsp of oil, gently place a tortilla and press down with a spatula. Cook for 1-2 minutes until lightly browned from underside. Carefully flip the tortilla and cook again for 1-2 minutes on the other side.
4) Remove the tortilla, and cut it in half to get to 2 triangles. Repeat for the remaining tortillas. Serve warm.
Serves
5
By Anand Lila Devi Dasi