Chekkalu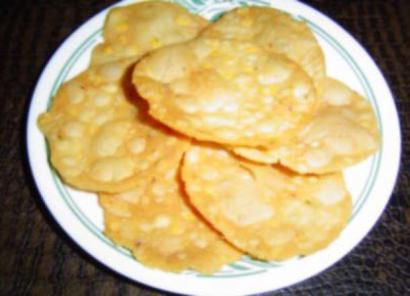 Ingredients
•Rice flour…………………………………………4 cups
•Bengal gram(Senaga Pappu) ………………1/2 cup
•Salt………………………………………………..acc to taste
•Butter…………………………………………….1/2 stick
•Ginger……………………………………………small piece
• Green chili……………………………………..3-4
•Baking Soda………………………………….. ½ tsp
•Water ……………………………………………sufficient(2-3 cups)approximately
•Oil ……………………………………………….for deep frying
Preparation
1.Soak bengal gram in water for 3-4 hrs. Drain and keep aside. Grind ginger and green chili into a coarse paste.
2.Melt the butter.
3.In a mixing bowl, combine the rice flour, bengal gram, salt, butter, ginger and green chili paste, and baking soda into soft dough (not too soft or too hard) adding enough water.
4.Make the dough into small balls. On a plastic cover flatten each ball with your palm.
5.Heat oil in a deep frying pan and fry them till golden brown. Remove and drain on paper towels. Let them cool.
6.Store them in an airtight container.
** It stays fresh for more than a month.