Chickpea and Ginger root Salad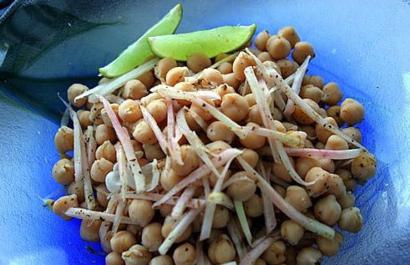 Whole chickpeas are soaked overnight, sometimes even slightly sprouted, before being used in this salad. Two types of rhizomes are suitable here: young camphor ginger or ginger-like mango ginger (a member of the turmeric family). Their flesh should be virtually fiber-free, with a thin skin. Because they are only found sporadically, look for young or "green" fresh ginger at the corner produce store or supermarket.
This salad was a constant on my breakfast menus for Srila Prabhupada. He taught it to me in 1967 and commented that ginger root for breakfast aided his digestion all day. Eight years later, when I forgot to soak the chickpeas Oneday and had to omit the dish, he again reminded me how important this "digestive" breakfast salad was for his health. Later, another of his cooks, Palika Dasi, related that he also favored another variation using soaked mung dal instead of chickpeas –a variation he simply called chutney.
Try this dish with seasonal fresh fruits for a light breakfast, or include it as a "salad-chutney" with lunch or dinner.
Dal soaking time: 8 hours or overnight
Preparation time (after assembling ingredients): 10 minutes
Ingredients
• Whole chickpeas, sorted and soaked in 1 ½ cups (360 ml) water overnight – 1/3 cup (50 g)
• Piece of fresh ginger root – 1 ½-inch (4 cm)
• Fresh lime or lemon juice – 1 ½ table spoons (22 ml)
• Chat masala (optional) – ½ teaspoon (2 ml)
• Freshly ground black pepper – ¼ teaspoon (1 ml)
Preaparation
1. Drain the chickpeas. Peel the ginger and slice into paper-thin rounds, then paper-thin julienne.
2. Combine all of the ingredients in a small bowl and toss well.
3. Serve directly on the dinner plates in small mounds.
Serves
4 to 6
By Yamuna Devi Dasi