Fruit and Nut Cookie Bars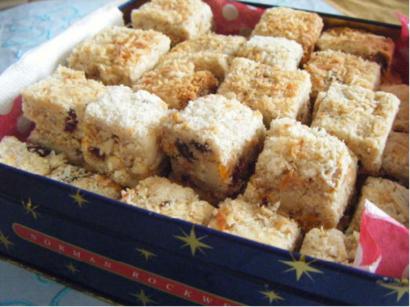 Ingredients
•1 ½ cup flour (I use 1 cup regular flour and ½ cup whole wheat pastry flour)
•½ cup butter, 1 stick
•2 cups sugar
•1 tsp baking powder
•1 tsp vanilla
•1 tbsp flaxseed meal, optional
•1 ½ tsp egg replacer, mixed with 2 tbsp warm water
•½ cup butterscotch pieces
•1 cup chopped mixed nuts
•½ cup mixed dried fruit bits, coarsely chopped
•½ cup coconut
Preparation
1.Lightly grease a 8x8x2-inch baking pan.
2.In a medium bowl, mix well butter and sugar. Stir in the egg replacer mixture and vanilla and mix well. Add flour, flaxseed meal, and baking powder, nuts, dried fruits, and butterscotch pieces. Stir until well mixed. Pat dough evenly on the prepared baking pan.
3.Sprinkle coconut on the top; press in lightly.
4.Bake in a 350F oven for about 25 minutes. Cool completely in pan. Cut into bars.
Serves
36
By Madhavi Davi Dsai