Chickpea and Sesame Paste Dip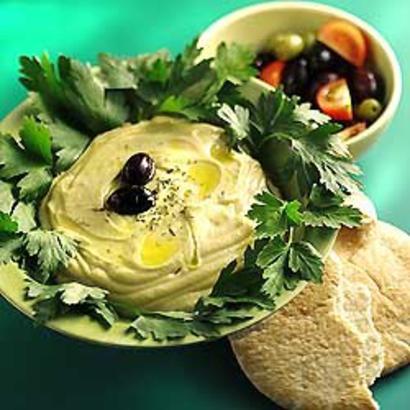 Ingredients:
• Dried chickpeas, that's one very heaped metric measuring cup – 200g
• Lemon juice – ¼ cup
• Yellow asafetida powder (to replace two cloves garlic) – ½ tsp
• Tahini – 6 tbsp
• Salt – 1 tsp
Preparation:
1. Soak the chickpeas in cold water overnight or at least 12 hours. Drain and place the chickpeas in a large saucepan. Cover with cold water, about three times the volume, and bring to a boil. Reduce to a simmer and cook for an hour or until the chickpeas are tender, topping up with water if necessary.
2. Drain the chickpeas, reserving the cooking liquid. Cool slightly then rub the chickpeas well to loosen the skins. Cover with cold water and the loose skins will rise to the surface. Scoop them off and discard.
3. Place the peeled chickpeas in a food processor with the lemon juice, asafetida, tahini and half of the salt. Process to a smooth puree, adding some of the reserved cooking liquid if necessary to achieve a smooth result. Add the remaining salt if it needs it.
By Kurma