Cheesy Filo Parcels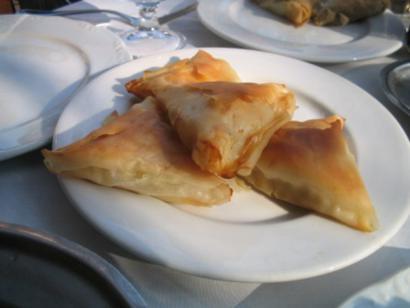 Ingredients:
• Feta cheese – 125g (4½ ounces)
• Haloumi cheese – 125g (4½ ounces)
• Chopped fresh thyme, or mint – 1-2 tbsp
• Freshly ground black pepper – ½ tsp
• Caraway seeds, dry-roasted and coarsely ground – 1 tbsp
• Filo pastry – 12 sheets
• Olive oil or melted butter – ¼ cup
Preparation:
1. Preheat the oven to 200° C / 400° F.
2. Grate the feta and haloumi cheese into a bowl and mix in the thyme or mint, the pepper and the roasted caraway seeds.
3. Cut the stack of filo sheets lengthwise into 3 even strips with a sharp knife. This will give you 36 strips of pastry.
4. Brush one strip with smears of butter or oil and place a second strip on top. At the base of this, spoon on a small tablespoon of the cheese mixture.
5. Fold the bottom edge of the pastry up to form a triangle over the filling. Continue to flip the triangle over and over, working up the pastry strip until it is all used up, forming a little triangular parcel. Repeat this procedure until all the pastry and cheese is used. 6. 6. Place the parcels on a baking sheet and brush with the remaining butter or oil.
6. Bake in the hot oven for about 15 minutes, or until the parcels are crisp and golden.
7. Serve warm or at room temperature.
By Kurma