Chocolatey Chocolate Daisy Cake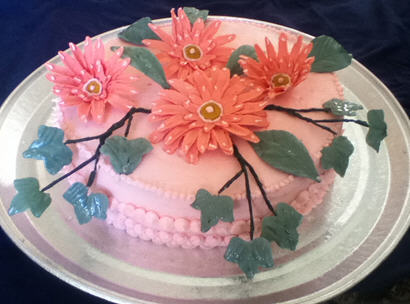 Ingredients-
• All purpose flour – 1 ¾ cup
• Carob powder – ¾ cup
• Sugar – 2 cup
• Baking powder – 1 ½ tsp
• Baking soda – 1 ½ tsp
• Salt – 1 tsp
• Yoghurt – ½ cup
• Milk – 1 cup
• Vegetable oil – ½ cup
• Vanilla essence – 2 tsp
• Boiling water – 1 cup

For Chocolatey Chocolate frosting
• Butter/margarine (1/2 cup) – 1 stick
• Carob powder – 2/3 cup
• Powdered sugar – 3 cup
• Milk – 1/3 cup
• Vanilla extract – 1 tsp
Method
1.
Heat oven to 350 F. Grease and flour two 9 inch round pans.
2.
Combine dry ingredients in a large bowl.
3.
Add yoghurt, milk, oil, vanilla essence. Beat on medium speed for 2 minutes.
4.
Stir in boiling water. (batter will be thin)
6.
Bake for 30-35 minutes or till wooden pick inserted in center comes out clean.
7. Cool for 10 minutes. Remove from pan to wire racks. Cool completely.
8.
Apply pink buttercream icing or chocolate icing between the cakes and on top for decoration. (I used pink butter cream icing to match with the pink daisies. Icing recepe is in Japamala apple raisin cake recepe. But I will give a delicious chocolate frosting recepe here.)
For Chocolatey Chocolate frosting
1.
Melt butter. Stir in carob powder.
2.
Alternately add powdered sugar and milk, beating on medium speed to spreading consistency.
3.
Add more milk if necessary. Stir in vanilla essence.
Gerbera Daisy flower, Ivy leaves and lily leaves – were made with Gumpaste few days ahead and refrigerated.
Cover the wire with green tape and then join the leaves.
Decorate the cake with the flowers and leaves.
Shine the leaves with a brush of corn syrup.
It was served to Laddu Gopal and distributed amongst devotees.