Choorma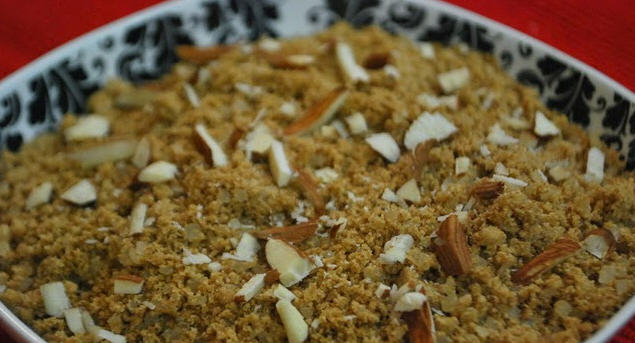 Ingredients :
•Atta/Wheat flour – 2 cups
•Desi Ghee – 3-5 tablespoons
•Sugar – 4-5 tablespoons (adjust according to taste)
•Almonds (sliced) – to garnish
Preparation:
1. Heat desi ghee in a pan.
2. Add wheat flour to hot desi ghee.
3. Mix them well.
4. Turn the flame to low and allow wheat to get cooked well.
5. Keep stirring continuously otherwise wheat flour will get stuck to the bottom of the pan.
6. After around 5-10 minutes, a nice aroma will start coming.
7. Keep stirring continuously.
8. Once the wheat flour changes colour n turns to a nice light brown shade, add sugar to it and mix well. I add normal sugar crystals to it as I like it that way. But it is up to you whether you want to add powdered sugar or normal sugar crystals.
9. After stirring well, turn off the flame.
10. Garnish with sliced almonds, choorma is ready to serve.
By Shilpy Malhotra