Chopped Spinach in Smooth Yogurt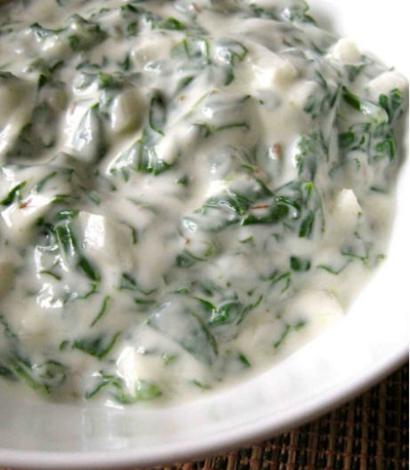 This richly marled yogurt salad is nutritious and very delicious, Blanched chopped spinach is combined with minced fresh herbs, fresh lemon juice, lemon zest and white pepper. You could use a mixture of greens instead of spinach –mustard greens, chard, watercress, kale or collards –each combination varying the taste.
Preparation time (after assembling ingredients): 15 minutes
Ingredients
• Fresh spinach, washed, patted dry, trimmed and coarsely chopped, or ½ package of frozen chopped spinach, defrosted and pressed dry (140 g) – ½ pound (230 g)
• Unsalted butter – 1 table spoon (15 ml)
• Plain yogurt – 2 cups (480 ml) or Yogurt – 1 ½ cups (360 ml) and tart cream – ½ cup (120 ml)
• Minced fresh herbs (coriander, dill, tarragon, chervil, parsley) – 3 table spoons (45 ml)
• Grated lemon zest – ½ teaspoon (2 ml)
• Lemon juice – 2 teaspoons (10 ml)
• Salt – ½ teaspoon (2 ml)
• White pepper – ¼ teaspoon (1 ml)
Prepraration
1. Place the spinach, with any water clinging to the leaves or a sprinkle of water, in a large nonstick pot, add the butter, cover, and cook over moderate to moderately high heat for 5 minutes or until a sizzling sound comes from the pot. Turn the leaves over so the uncooked ones on top change places with the soft cooked ones on the bottom. Cover and cook for another 4-5 minutes. Take off the lid and cook off any excess water. Remove the spinach from the pan and let cool to room temperature. Alternatively, cook the defrosted spinach in a dab of butter for a few minutes.
2. Meanwhile, combine the yogurt or yogurt-cream mixture, herbs, lemon zest, lemon juice, slat and pepper in a 1-quart/liter bowl and whisk with a fork until creamy. If you are ready to serve the salad, add the spinach and blend well. Otherwise, chill the yogurt mixture and spinach separately.
3. Just before serving, combine the yogurt mixture and spinach and stir to blend. Serve in small custard-cup-sized bowls.

Serves:
4 to 6

By Yamuna Devi Dasi