Coconut Chutney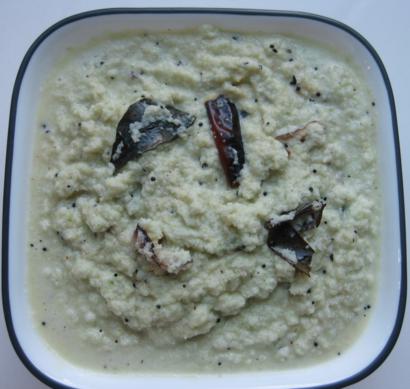 Ingredients
•Grated coconut – 4 tbsp.
•Bengal gram (chana dal) roasted – 2 Tsp.
•Ginger peeled and chopped – 1 piece.
•Fresh coriander leaves chopped – 4 tbsp.
•Green chilies chopped – 4
•Each of mustard seeds and black gram (urad dal) – 1 tsp.
•Asafetida powder – ½
•Curry leaves – 4.
•Red chilies (broken into bits) – 1.
•Oil – 2 tbsp
•Lemon juice
•Salt – as required.
Preparation
1. Grind the coconut, roasted gram, green chilies, coriander leaves and ginger to a fine paste using a little water.
2. Pour the paste / chutney into a bowl and adjust the consistency using suitable amount of water.
3. Heat the oil in a pan on medium level for about 2 minute(s) till it is hot enough.
4. Add the mustard seeds.
5. Let them splutter and then add the black gram (urad dal), red chilies, curry leaves and asafetida powder.
6. Fry briefly till the gram turns red and pour it on the chutney.
7. Add salt and lemon juice to the chutney.
Serves
4 Persons.
Bhaktin Sushma