Minty Yogurt Shake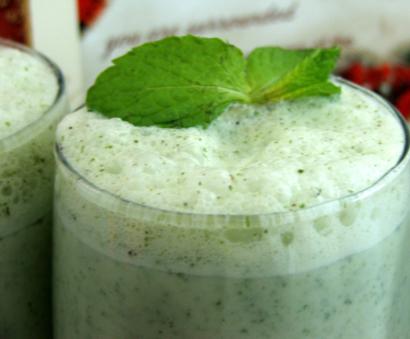 In India, mint follows coriander and neem leaves as the most widely used herb. It is an important flavoring in soups, savories, vegetables, rice, dals and beverages. American seeds men offer herb gardeners a good selection of scented hybrids, from apple mint to cinnamon mint, each type with a different flavor. My favorite mint lassi combines homemade vanilla yogurt with licorice mint and coarsely powdered fennel seeds. These hinted sweet ingredients are offset with a splash of rose water for a very refreshing summer thirst quencher.
Preparation time (after assembling ingredients): 10 minutes
Ingredients
• Homemade or Brown Cow vanilla yogurt or Dannon low-fat vanilla yogurt – 2 cups (480 ml)
• Sour cream, cream, or half-and-half – 3 tablespoons (45 ml)
• Trimmed fresh mint, loosely packed – ¼ cup (60 ml)
• Dry-roasted fennel seeds, coarsely powdered – 1 teaspoon (5 ml)
• Superfine sugar or equivalent sweetener – ½ cup (110 g)
• Rose water – ½ tablespoon (7 ml)
• Ice water – ¼ cup (60 ml)
• Ice cubes, cracked – 8-10
• Sprigs fresh mint or rose petals for garnishing – 4

Preparation
1. Combine all of the ingredients, except the ice cubes and garnish, in a blender or food processor fitted with the metal blade, cover, and process for 2 minutes.
2. Add the ice and process for another minute.
3. Pour into frosted glasses and garnish with fresh mint or rose petals.
Serves
4

By Yamuna Devi Dasi