Coconut rice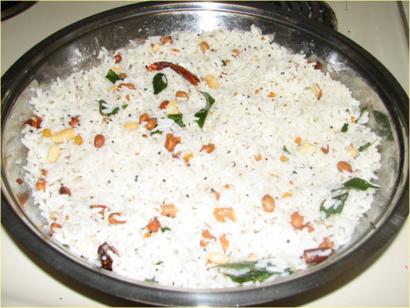 Ingredients
•Rice……………………1C
•Coconut Milk……….1C
•C Water………………1 ¼
Seasoning:
•Oil…………………………………………2 Tbsp
•Black Mustard Seeds………………..1 Tsp
•Urad Dal…………………………………1 Tsp
•Chana Dal………………………………1 Tsp
•Cashew Bits…………………………….2 Tsp
•Groundnuts…………………………….3 Tsp
•Red Chilly……………………………….1 Dry
•Fresh Curry Leaves…………………..7-8
•Grated Coconut……………………….3 Dry
•Salt (or more according to taste)..1 Tsp
Preparation
1. Combine rice with coconut milk and water. Bring it to a boil, then immediately reduce the heat to low, cover with a tight fitting lid, without stirring, cook it over low flame till rice is tender. Remove from heat.
2. After 10 min, cool the rice in a plate.
3. Assemble all the ingredients for seasoning.
4. Heat oil in a pan, Add mustard seeds, when they splutter, add urad dal, chana dal, cashew bits, and groundnuts in succession. Saute them until golden brown, then add red chilly and curry leaves. Stir fry till the flavor becomes aromatic.
5. Add the grated coconut, Stir fry it, till becomes light golden in color.
6. Mix this with the cooled rice and add salt.
Serves
3-4
By Anand Lila Devi Dasi