Kheer Sevian: A Creamy Vermicelli Dessert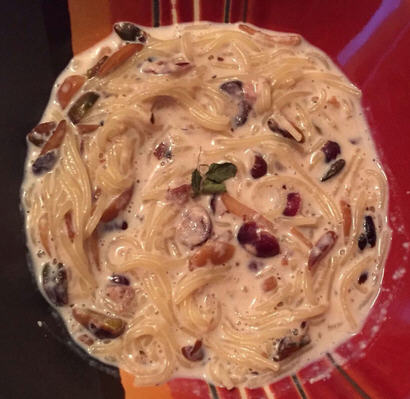 Ingredients:
3 table spoon of ghee or unsalted butter
⅓ cup (85 ml) slivered raw almonds
⅓ cup (85ml) sliced raw pistachio nuts
6 whole cardamon pods, bruised
¼ cup (60 ml) sultanas
5 cups (1250 ml)  milk
75g fine vermicelli, broken into 3.75 cm ( 1 ½ – inch) length
½ cup (125 ml) sugar
¼ (60 ml) double cream
1-2 tablespoon (20-40 ml) pure rosewater (not essence or concentrate)
Preparation :
(1) Melt the ghee or unsalted butter.
(2) When it's slightly hot, drop in the nuts and cardamom, and saute them for 3-5 minutes, or until the nuts are golden brown.
(3) When the nuts are almost done, drop in sultanas and fry them until they swell up.
(4) Pour in the milk, add the vermicelli, increase the heat and bring the mixture to the boil. Reduce heat slightly and simmer, stirring occasionally, for 20 minutes until the pudding is thickened and creamy.
(5) Add sugar and cream, mix well, cook a little more and then remove from the heat. Stir in the rosewater.
Source:http://iskcontoronto.blogspot.in/2017/03/cooking-for-krishna-kheer-sevian.html